"7 Truths: God Walked the Earth"
John 1:1-5; Romans 1:1-7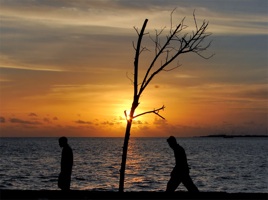 What do we remember about 1969? For many, there is only one major memory, and that is of Neil Armstrong walking on the moon. Where were you when it happened? Who were you with? For the generation of my parents and grandparents, this is a defining moment in their lives.
For those of you who remember, it was exciting wasn't it? A man. Walking on the moon. Up there. In SPACE!!!
I mean, to go from the first human in space in 1961 to actually walking on an alien surface in just 8 years, it's pretty impressive. And to think today of all that goes in technology-wise to getting people into space, or rovers on Mars, and how they did all of this with 1960s technology, it's all very impressive.
Neil Armstrong, and his famous first words from the moon are words which have been repeated many, many times over the last 40+ years.