Scripture: Luke 3:1-22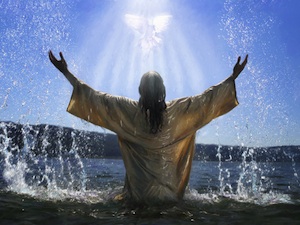 Well good day to you all. I hope you all had a great Christmas and New Year. We are here to see what God has in store for us in 2017. At least I hope that's one of the reasons why we are here.
Now, if you haven't been with us since Christmas Eve, you've missed a lot, because Jesus is now 30 years old! As a parent, I know kids grow up fast, but I'm pretty sure it's only been a few weeks since we celebrated his birth! But here we are, moving right into his baptism as an adult.
First though, we have Luke telling us about John the Baptist, or John the baptizer as some of my Baptist friends like to call him.
The way Luke introduces John the Baptist is rather interesting. Luke lists off all these big names: Emperor Tiberius, Pontius Pilate, Herod, and many others. All these big names with great power and authority in the region. And after he lists all these people Luke says, "the word of God came to John son of Zechariah in the wilderness."
I'm sorry, who?
Zechariah, isn't he that priest out there somewhere in a village? Has anyone heard of him? Who is he? And now we're talking about his son? Who really cares about some son of a nobody living out in the wilderness?