Scripture Reading: Luke 24:13-35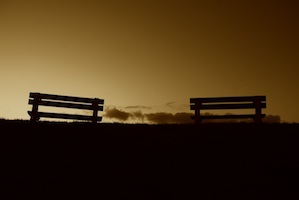 Have you ever had someone, or I even suppose something, come into your life that you are pretty sure will change things, and change them for the better?
Maybe it's a new job, or a new boss. A new teacher maybe. A new house or a new car. Maybe even a new friend. Or maybe it's a class you are going to take, or to hear a speaker who promises to change your life.
We like to look to others, whether people or things, to help us change our life around. Not that we think our life is all that terrible, but sometime we like to shake it up a little. When something new comes along, it often is accompanied by a feeling of freshness, a bit of energy, a boost. And we like it don't we?
How many times though does the change not really change anything? Sure, we may change for a few days, maybe even a few weeks or months, but long term, how often do we find ourselves back in our old routines?