Scripture Reading: Mark 13:24-37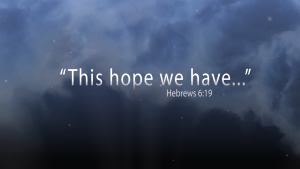 I'm a fan of cheesy sci-fi movies. Have you ever seen one of these? It's the likes of movies called "Avalanche Shark" or "Comet from Space" or "Windstorm" where a bunch of low paid actors use dodgy science to save the world from impending doom. Usually the funniest bit is listening to the terrible lines and watching the cheap special effects.
One of the reasons I like to watch these movies is because they are bad movies, usually really bad, and they know it. Because they know it, they milk it for all it's worth. And after a busy week, it fun to sit down and watch these movies on a Saturday night to help me relax and feel better about the world. It's a fun distraction for sure.
What's even more fun is coming up with fun movie plots of your own while you watch them. While watching "Sharknado" I came up with the idea of a trilogy of movies based on other animal attacks. Now if I just had time to write the scripts for these things. Maybe I need to talk to the Board about taking a sabbatical? 3 months might be enough time to write a screenplay. What do you think?