The following is my sermon from the Week of Prayer for Christian Unity service.
Scripture: Mark 5:21-43
Do you realize you are in the presence of Cape Breton's newest star of the stage?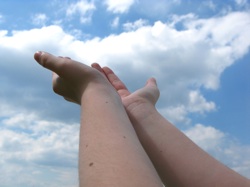 On Wednesday evening Bev and I went to the Highland Arts Theatre to see "Of Mice and Morro and Jasp". It was a nice little show, but it picked up a bit in the second half when they called a tall, handsome, newly discovered actor from the audience. The audience was in tears of laughter as he skillfully navigated his way through the scene. On his way out of the theatre. there were rave reviews of his performance.
I must say, I think I did pretty well up there.