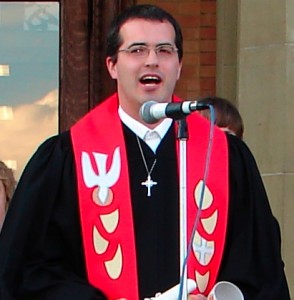 I am a minister living in Cape Breton, Nova Scotia, Canada serving a small town church.
Here on my blog you will find a number of different writings. On here I post my sermons each week, as well as different reflections on all sorts of things. I do not shy away from political conversations nor the future of the church. On this last grouping, I have started a series that I will add to on a regular basis which I call, "Words To The Church".
I certainly welcome comments and discussions, whether they be on this blog itself, or on Facebook or Twitter. I would love to get to know my readers better.
My hope is that by reading my blog you will engage with your belief systems. Not just your faith beliefs, but also how you interact with the world around you; your political and social concerns.
So feel free to take a look around and ask questions. As I look back over the years I've been writing here, I can see how discussions with people has helped me to grow in my own understanding of myself and the work of God in the world. Maybe we can continue this growth together?
Welcome to my blog, I hope you enjoy reading as much as I enjoy writing.
God bless,
revnick