Scripture: Romans 5:1-11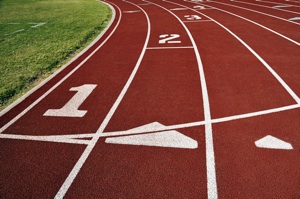 So over the number couple of weeks I've been coaching track and field at Dr. T.L. Sullivan. It's a short season, and they basically had no coach the last number of years, and they needed one. Badly. Last year was pretty much a mess for organizing the kids to compete. In fact, they didn't have a single practice before they went to their first meet, and most didn't even know what events they were competing in until they arrived at the track. So I stepped in to help and give the kids a chance to train and be able to compete with some semblance of confidence.
I tell you, it's been fun. Even at the practices, working with the kids to improve their techniques and see their excitement grow for their chosen disciplines. It's been a lot of fun.
Then last week and this week, watching them compete and put up great results they never expected from themselves, all while making new friends while doing it, it's been even more fun. We even had 3 kids from TLS qualify for provincials next weekend.
All of this also rekindles for me how much I love track and field. I competed all through junior and high school many, many years ago. I still have friends today from when I used to compete, and not even from the schools I attended.
read more…