Scripture Reading: Luke 7:1-17
It's been a rough week to watch the news. Our Prime Minister decided he is going to break one of his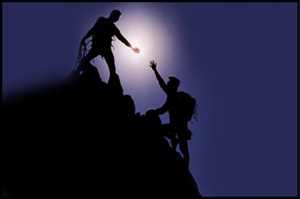 big campaign promises, claiming no one wanted it. Another world leader can't seem to stop making moves to fulfilling many of the promises he made, no matter how destructive they may be. And on top of that a terrible terrorist shooting at a mosque in Quebec City by a racist, white Canadian man.
What is going on in the world right now? And what can we do?
Really though it feels somewhat hopeless. We have no influence on America. If we did, our Prime Minister would be all over the news, he'd be on the phone constantly with the President, and things would be happening very differently.
Instead we hear of people being turned back at the border. People frustrated, from all over the world, including other world leaders. A country which once was seen as willing to engage in conversation, at the very least, is now becoming more and more closed and insular. "America first! America only!" is the rallying call, and it's increasingly clear this is going to be the way forward for the next while.
And we're left asking ourselves… what can possibly be done?