Scripture: Matthew 6:9-13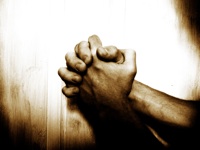 Last week we took a look at what prayer means, why we do it and what we might expect.
Now I know we are sitting in a traditional United Church. We are used to certain things. We are used to a certain type of worship. I remember the first time I went to a contemporary Christian church.
First, I have to admit I like all kinds of worship music. I love the old traditional, but I also love the contemporary music played in some churches.
So Bev and I went to this church we had heard about, it was a big church just outside Halifax. We knew they would be a contemporary church with a live band and the latest music.
The service began with a lineup of powerful music coming from the band. Some of it we knew, others were new to us.
As the service progressed, we felt like things were missing. There were no prayers together, like we do here. There was no confession, or dedicated scripture reading. And after the very fine sermon was given, all that happened after that was a "thank you and have a great week" kind of message. No benediction, no kind of "wrap up" before we left.
We enjoyed the service, but it wasn't what we were used to, so it felt a little off for a first-timer. Would we go back again? Sure. But now we know what to expect.