Scripture: Luke 5:1-11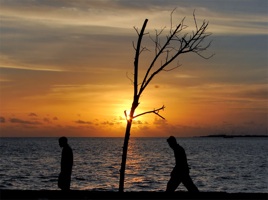 I have an interest in politics. Friends of mine have gone into politics for various parties doing various government jobs. I know people who have been elected. I pay attention to what happens at various levels of government. I've even had people tell me I should run for office. And if I ever do, please promise me one thing. If I ever run for political office, promise me you'll have my head checked.
I wonder what it is that draws people into the political arena? For many, I suppose it's because the believe they can help people by taking part in the processes which govern our land, and to make changes which will help their neighbours. This is an incredibly noble effort and I applaud them. But I also wonder how long it is before they realize their out of their depth?
For others, I suspect it's is a more personal motive. That if they get into office they will be able to make connections and changes which will benefit them and their friends financially and professionally. Oh, if I could ONLY find a couple of recent examples in the United States and Canada of people entering politics for personal gain and fame. My hope is, and I hope I'm right, that these people are in the minority. They are just a small percentage of those in politics.
Politics is a nasty, nasty world. There is no stone unturned, there is no skeleton left in any closets. It's ruthless! Even municipal politics, small towns and cities are getting ugly at election times.
So who, in their right mind, would leave the relative private life to enter the public world of politics? Clearly there is something at work here I don't quite fully understand.