Scripture: Luke 10:38-42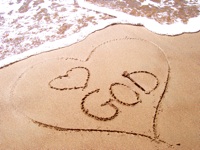 This week we find ourselves looking at Mary and Martha when Jesus drops in for a visit one day. As Jesus sits in their home the two women take on two different roles.
Martha gets to work in the kitchen preparing a meal while Mary sits and listens to what Jesus has to say.
Which is more important?
Well, one could argue that hospitality is most important. In the time of Jesus, hospitality to visitors was an expectation, even to strangers. When someone came to the village, and if no one extended extravagant hospitality to the visitor, it would bring shame on the community. This meant feeding them, providing a place to sleep, a place to get clean, all of this was expected when visitors showed up at your door.
While we may not do this to strangers so much any more, it's much the same for us today. When someone shows up on our doorstep, although they usually don't show up unannounced we open our homes, provide a place for rest and most certainly we will feed them.