Scripture: Matthew 1:18-25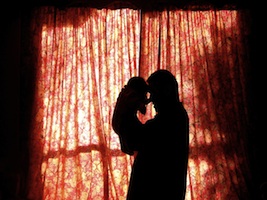 We so often focus on the story of the birth of Jesus as written in the Gospel of Luke. We read it every Christmas Eve. And I see why we do, it has the most detail of the story. It's much easier to plan a play for, it has all the characters, it has movement, it has a great plot line. But it's not the only account of the birth of Jesus. There is a simpler version, like what we find in the Gospel of Matthew this morning. It's a story with a greater focus on Joseph. It's not a big surprise, really. The world is male centered at the time. The strong focus on Mary in the Gospel of Luke would probably have been a greater surprise given the time and place of the Gospel of Luke.
It also has something to do with the audience. Matthew is writing to a Jewish audience and is leading them to the conclusion that Jesus is the Messiah. He draws them in by following the genealogy of Jesus through Joseph, highlighting his Jewish heritage. This is important, because the infant will be identified by the heritage of his father. So by showing Joseph is Jewish, we know that Jesus is a Jew from the family line of David. This is also important, because they audience knows from their teachings in the Old Testament that the Messiah comes from David's family line.
read more…