"7 Truths: Clear Pointers To God"
Colossians 1:15-20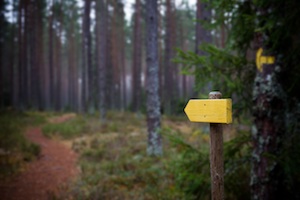 When I was a teenager my family went to visit my grandparents one weekend. As was often the case, one of my cousins was there, and so were one of his friends. It was a nice day so we were outside doing whatever it was we were doing. My grandparents lived on a rural farm surrounded by big, long fields. There was an old road that passed along the edge of the property that led back to a couple of houses and we decided to go exploring. We got to the houses and decided to keep going, we wondered where this road led.
Eventually the road led into some woods, and we kept going. The woods became thicker, the road became narrower and rougher. As we were walking my cousin stopped and asked, "Where's the road?"
Because of the gradual change in the road, we didn't notice we had walked past the end of it and were just standing as explorers in the woods. And yes, we were lost.
Much pacing around, looking for the trail which had led us here, I admit, there was some panic, but I was also pretty confident in my sense of direction I could find our way out. I grew up surrounded by woods and had explored the forest many times. My cousin's friend on the other hand, didn't exactly remain as calm, he was from town after all.
I often wonder if he found his way out.
I kid of course. After some careful backtracking I located the path, which became a road that led us out of the woods and back into the fields, past the houses and to my grandfather's farm.