Scripture Reading: Ezra 1:1-4; 3:1-4, 10-13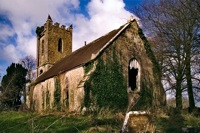 So, we've moved into the very popular Advent reading from Ezra! Ok, so maybe it isn't a very popular reading… ever. In fact, who has even read the book of Ezra? Not too many I imagine. Isn't it great I'm getting you into these little known books at a time when we like to relax and celebrate long-standing traditions? (that's a joke folks)
What have we seen over the last few weeks? We've seen King David celebrate the return of the Ark of the Covenant to the temple with dancing and singing in the streets. The Ark of course holding the laws, the 10 Commandments, given by God to Moses and in turn to the people.
We've seen the people fall away and struggle to continue in relationship with God. And we've seen them return again with King Josiah when he read a long lost book to the people. He read scripture to them, and the whole nation of people committed themselves to following God's laws, just by hearing those words.
Since then, we've seen the people disperse. The nation of Judah has been taken over, and people are on the move like refugees, looking for safe homes to live their lives. Something we are very aware of in the world today.