Scripture Reading: James 2:1-17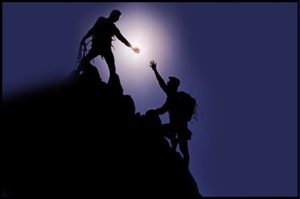 Quite possibly the most favourite family activity we did this summer while on vacation was attend the Canadian Special Olympics Games in Antigonish. We were invited to be there so we could cheer on my cousin from the Yukon who was competing in bocce.
In fact, we were treated as Yukoners all week long. The reason why is because we were given purple t-shirts emblazoned with Yukon pride, along with flags and noisemakers. If you saw a group of purple t-shirts, you could be sure to hear "RISE UP! YUKON!" bellowed from someone in the group. Especially if they were gathered at an event cheering on the team.
But that wasn't the reason we had such a great week, although it certainly contributed to the fun. We had a great week because of the atmosphere. We took in as many sports as we could. We certainly watched my cousin. We also watched her boyfriend compete in soccer. And they did really well, ending up with a silver medal.
We also watched basketball, track and field, and also some rhythmic gymnastics. At every event people had fun. As fans, while we cheered loudest for the Yukon team, we also were happy to cheer on the other provinces as well. And other fans were the same. The loudest cheers for your own province, but still there were enthusiastic cheers for all athletes, no matter their skill level.