Scripture Reading: John 13:1-17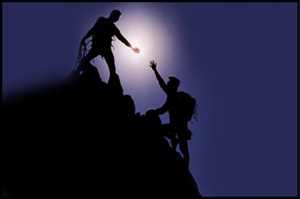 Have you ever had someone do something for you, an act which may have even seemed small at the time, but you realize later it was a huge thing they did?
Maybe someone bought you something you needed which you realized later was a big sacrifice for the giver because maybe they couldn't afford it at the time or gave up buying themselves something. Maybe someone drove well out of their way to come see you when you really needed some company. Or maybe they gave up an important event to spend time with you.
I've experienced all those things at some point in my life. My parents drove me all over the province so I could play basketball or take part in track and field events when I was a teenager. It wasn't until much later I realized how much they gave, and even sacrificed at times, so that I could pursue the things I loved.
And there have been times when I've done it as well. I've given up things, I've given up events so I could be with others when they needed some company. Would I have liked to be part of the event I had planned to attend? Sure, that's why I wanted to go. But sometimes friendship or family is more important.