Scripture Reading: Luke 15:1-32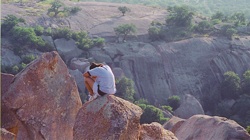 We moved into the new house last November and we started unpacking. Isn't it a lot of fun to try and find room for everything? Especially when you're moving into a place a little smaller than you had before?
But as we were unpacking, and as we were trying to figure out just where everything goes, we realized some things were missing. In particular were a couple of small jewelry boxes which held some things special to us. We searched the house, we went back to the old house and searched there in case we left them behind. Couldn't find them.
Then panic started to set in, when we began to worry that maybe they got mixed in with the bags of stuff we sent to charities.
What to do, what to do?
Back through the boxes again. They have to be here somewhere!