I've recently begun reviewing books sent to me by Graf-Martin Communications, Inc.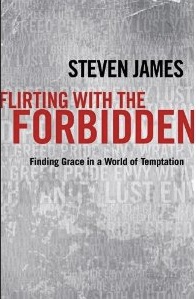 The first book I received was Flirting with the Forbidden: Finding Grace in a World  of Temptation by Steven James.
Often when you pick up a new book you might look to see who has endorsed the book so far. The endorsements on the back of the book are from "generic" reviewers, certainly no big recognizable names. So, to be honest I didn't have a high expectation for this book.
But don't I love to be surprised! James takes us on a journey through the eyes of biblical characters, giving us some insight into their lives as they struggle with temptation and acting faithfully. Some of the characters he chooses may surprise you, as they are sometimes only mentioned in passing in scripture.
Tying the actions of these people with our current lives, James offers us new insight into what it means to face temptation in the world and the grace we need from our God.
If you are one who finds yourself in need of grace over and over again, and maybe you feel you just can't see hope, you should read this book. It certainly has given me lots to think about.
Stephen James is a fine storyteller who will take you on a journey into the hearts of men and women from the Bible, showing how grace is needed, and also that grace is offered.
Book has been provided courtesy of Baker Publishing Group and Graf-Martin Communications, Inc. Available at your favourite bookseller from Revell, a division of Baker Publishing Group.