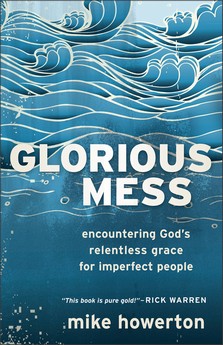 The story of Jonah is an interesting view of a wrestling match with God about following his call on our lives and seeking to live out what we want to do. Often we overlook how the story reflects on our lives today.
This will come to an end when you read Glorious Mess: Encountering God's Relentless Grace for Imperfect People by Mike Howerton.
Howerton takes us on a journey along with Jonah and helps us to realize that the messes Jonah finds himself in are also the same messes we find ourselves in. Using a great sense of humour and an engaging writing style, Howerton shows us through his own personal reflections and confessions, none of us are immune to life's temptations and mistakes.
But, like Jonah, we can be glorious messes when we let God step in and clean us up and bring us back to Him.
If you find yourself struggling with finding yourself in a mess, not sure how you got there or how to get out, pick up Howerton's book, you'll be given hope, and you'll have a smile on your face while reading it!
Book has been provided courtesy of Baker Publishing Group and Graf-Martin Communications, Inc.
Available at your favourite bookseller from Baker Books, a division of Baker Publishing Group.