"Feel the Passion: Love"
John 20:1-18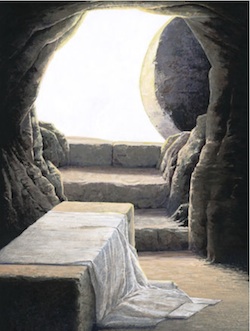 This is the day… do you feel it?
What are you thinking this morning? What emotions are you experiencing? How does your body feel? Any different at all?
Have you ever won a big game, a contest, or some prize? There are many emotions running through you all the time. There's elation and joy, maybe some relief that it's finally over. There's a burst of energy as adrenaline runs through you. You smile, you laugh, you cry. There may even be some awe as you realize just what has happened.
Today, my friends… today is the celebration of the greatest victory ever known.
God… won!
God went to battle with the greatest enemy, the greatest villain ever known… and he won!
And what a victory it is! Talk about your comebacks! Jesus beaten, battered, KILLED! Buried and sealed in a tomb… and he came back! When we thought it was all over… he came back.
We don't like Good Friday. It's too sad. It's too painful to hear over and over again what happened to Jesus in his final hours. It breaks our hearts to think of this happening.
But it must.
If there's no Good Friday, there's no resurrection. If there's no Good Friday, there's no victory. If there's no Good Friday, there's no understanding of the depth of God's love. If there's no Good Friday, then what happens next is just called running away.
Without Good Friday, there's nothing to celebrate. There's no victory, no life everlasting, no visible sign of the extent of God's love for us. All there is is a good teacher, a nice man.
But he's much more. Jesus was a good man, yes, but he did much, much more than just teach us a few things. He did amazing things. He did things no ordinary man could ever do. He healed people. He brought people back to life! Miracles!
When the women went to the tomb after the Sabbath, the heavy stone was moved away from the opening. The body was removed. The women were sad, the disciples… perplexed.
But then Jesus revealed himself. He showed that the story is not over. He is risen! He is alive! He is done just as he said he would.
This is no magic trick. This is no movie special effects. This is God's Son winning the battle.
"Where, O death, is now thy sting?"
The risen Jesus Christ shows us God is still alive and active in the world. All his promises made are true. Everything is real and nothing, not even death, can separate us from the love of God.
How does this make you feel?
Today is the celebration of the greatest moment in the history of the world. This is the day we celebrate God's ultimate victory over sin and death. This day we are shown we are worth it. We are worth God's love. We are part of God's family.
Jesus did all of this for us. Jesus did all of this for you.
When we give our lives to our risen Christ, we too have victory over the grave. We can realize just how great this love is, love like we have never experienced before. Our lives change, our hearts are healed, our sins are forgiven, we live in for the glory of God, and we can't help but want to share it with everyone we meet.
How important is this to you?
Penn Jillette is part of the duo Penn & Teller. They are a comedic magic act known around the world. Teller is the smaller, silent guy who never says a word and is often the victim in the jokes. Penn is a larger than life character who readily speaks his mind. He is also an atheist who is not afraid to speak about it.
One night after a show, he recorded a video for his website where he recounted how a man gave him a small Gideons Bible, and he shared how he felt.
"I've always said that I don't respect people who don't proselytize. I don't respect that at all. If you believe that there's a heaven and a hell, and people could be going to hell or not getting eternal life, and you think that it's not really worth telling them this because it would make it socially awkward… how much do you have to hate somebody to not proselytize? How much do you have to hate somebody to believe everlasting life is possible and not tell them that? I mean, if I believed, beyond the shadow of a doubt, that a truck was coming at you, and you didn't believe that truck was bearing down on you, there is a certain point where I tackle you. And this is more important than that."
What's more important?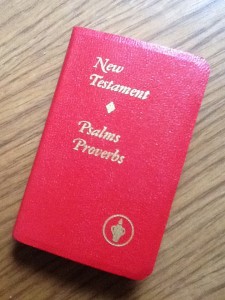 Penn was given one of these. A New Testament and Psalms, just a little pocket sized Bible. He'll likely never read it, but you could see he was touched by the gesture. This man thought enough of Penn that he felt he needed to warn him of what is to come if he doesn't embrace God. He was also a brave man because of how vocal Penn can be about what he believes and how he rejects religion.
Penn Jillette has wise words for us to think about. If we believe Jesus Christ died and rose again so we could know the depth of the love of God; if we believe he did this so we could escape the terror of hell; and if we believe those who do not believe these things will never see the light of heaven… then why aren't we tackling people in the streets to save their lives?
What is more important: a slightly awkward encounter where we ask someone, "Do you know Jesus?" or the eternal soul of the people we love?
In the letter to the Hebrews, the author writes in chapter 12:
"Therefore, since we are surrounded by so great a cloud of witnesses, let us also lay aside every weight, and sin which clings so closely, and let us run with endurance the race that is set before us, looking to Jesus, the founder and perfecter of our faith, who for the joy that was set before him endured the cross, despising the shame, and is seated at the right hand of the throne of God. Consider him who endured from sinners such hostility against himself, so that you may not grow weary or fainthearted. In your struggle against sin you have not yet resisted to the point of shedding your blood."
This was so important to the apostles, the first followers of Jesus Christ, the first leaders of the church; it was so important to them they put their lives on the line. They spilled their blood. They were imprisoned. They were stoned to death. The message of Jesus Christ and his salvation was so important they gave their lives to the cause of sharing it with everyone they met.
It's a little different today isn't it? Today such passion is hard to find in the church. I confess that I do not live my life in such a way on a regular basis. I have not been willing to risk an awkward moment, or to step into a potentially dangerous place in order to introduce someone to Jesus Christ. And believe me, I've had my chances.
Like many, I prefer to keep things safe. What would people think of me if I actually did what I feel in my heart? What would people think if I began to actually show people the abundant love of God I have received? It's hard to imagine, that in the world today people would push me away, pushing away hope… love… in a world like this.
Everyone of us knows someone in need of hope and love. We all know someone who's life is broken: a friend, a neighbour, a family member, our children.
All of this brings me to a question.
Who are we?
The simple answer is, "We are Carman United Church!"
But what does that mean? When you talk to someone in the community, what do the words "Carman United Church" communicate with people?
About a month ago I was skating with the kids' school, helping chaperone, tying skates, picking kids up off the ice, smiling and having fun. I was waved aside by another parent, so I stopped.
She said, "I hear you are the minister of Carman United." I informed her I was.
"You're still open?" she asked.
There are people in this community who don't even know we still exist!
Who are we?
The Gideons invited me and a bunch of other ministers from around Cape Breton to join them for breakfast last week. The speaker was a man my age who recently began to work with the Gideons in just the last year. He shared with us some of the life lessons he's picked up in nearly 20 years of ministry, mostly working in youth ministry.
He talked about recruitment. He talked about communicating a vision. He talked about some other things. All the while, I was picking up on his good points, and wondering how they might be applied in local churches, not just here at Carman.
To be honest, I couldn't see how.
Then he shared his final point.
"Healthy things grow"
Then it all made sense. In nature, the healthiest plants grow the fastest and biggest. If the plants are withered or stunted, then I know I've got a problem. If my children stop gaining weight and outgrowing clothes, then I know I've got a health issue I need to look into as soon as possible!
Healthy things grow…
It's not about finances. It's not about what programs we offer. It's not about how many sit in our pews on a Sunday morning.
It's about our spiritual health. It's about who we are as Christians. It's not about how religious we are. It's about knowing Jesus Christ and the powerful sacrifice he made for us so we would know this love.
It's about Jesus Christ living the example of God and sharing it with the world. It's about how we reflect this relationship with the Father in Heaven through the gift of His Son.
It's about feeling the passion. It's about feeling God's love.
That's what it's about.
All of this was shown to us this weekend, in the pain and suffering of Good Friday, and how God's love burst forth from the grave on the first Easter morning.
This is life. This is love.
This is Jesus Christ, alive and well in us all.
Do you feel it?