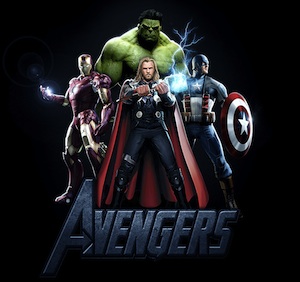 Last night I went to see "The Avengers" with some friends. It was an entertaining evening that helped me relax, which I didn't realize I needed (but that's a post for another day).
It's an epic battle between good and evil as you would expect any superhero movie to be. But it's also a story of coming together for a common good. The mix of egos, personalities, positions all coming together to do what's right.
As I was thinking about the movie on the way home, I can't help but feel a bit of a connection. For the last couple of years I have been a certain kind of voice in the church; speaking about certain topics and theologies; challenging the church in certain ways and so on. And through it all I've been feeling a little alone at times.
But over the last year I've discovered, and continue to discover and build, a network of people who feel like I do about the way the church has been working and thinking. Sure it's not a good vs evil epic battle, but it is a battle in its own way. In reality it is a battle for the future of the church in North America.
So we build our network, bringing our own skills to the table, our own particular experience and voices wanting to make the church relevant and meaningful to the world today.
I love this. I needed this. It helps me in my daily work. It strengthens my voice to know I'm not shouting into the darkness unheard and unsupported.
Thank you everyone I have met over the last couple of years who are on this journey alongside me. You are all my heros in this battle for the future of the church of our Lord Jesus Christ in the world which fights against it.