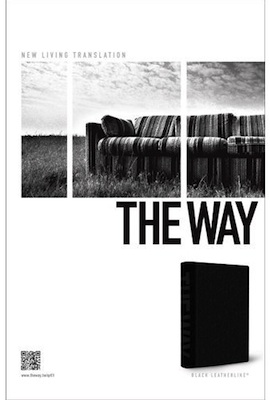 I'm a pastor.
I have a Bible. I have a shelf full of Bibles. I've even read some of them. So why would I bother to review yet another Bible?
Because I'm a pastor.
It's nice to have a variety of translations around to see how different passages are translated.
And what caught my attention about The Way was that it is targeting young adults. So I wanted to see how they were going about it.
The first thing you notice when you pick up The Way are the pictures. There are some beautiful and powerful photos in this Bible. As you flip through it, you also find there are lots of stories. There are short reflections on passages. There are laments where people write of their struggles. There are wonderfully written introductions to each of the books which helps set some context for what you are about to read.
The Way also uses the New Living Translation of the Bible. While I obviously haven't been able to read the entire Bible for this review, the passages I have found myself thumbing through are accessible to most readers.
One other feature in this Bible is the liberal use of QR codes (the little funny looking boxes you can scan with the camera on your mobile device).  I didn't have a lot of luck getting the codes to scan, however, if you type in URL next to the code you can get access to the extra content. What I reviewed from the online content seems well done.
So while, from a critical eye, I'm sure I could point out some flaws in theology in the stories, I'm not about to do that. A Bible that seeks to find a way to connect with a generation that is distant from God through the telling of stories can't be a bad thing.
In short, if you are looking for a Bible to give to a young adult in your life who may be looking for answers and ways in which to engage the big questions of life at a time when we typically make big transitions, this would certainly be a suitable gift.
Advanced Reader's Copy of the Bible has been provided courtesy of Tyndale House Publishers, Inc and Graf-Martin Communications, Inc. Available at your favourite bookseller from Tyndale House Publishers, Inc.