"Walk By Faith"
2 Corinthians 5:6-13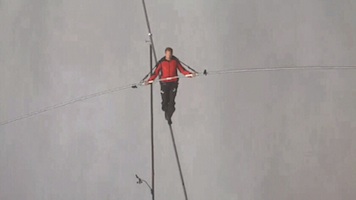 Something happened Friday night that we've never seen before. Millions of people, all over the world, tuned in to watch a man go for a walk.
Only it was no ordinary walk. Nik Wallenda walked a tightrope from the United States to Canada, crossing over the Niagara Falls.
I almost forgot it was on as we had some company pop in for the night from Halifax. We were just getting up from chatting around 11:00 and someone mentioned in passing if the fellow had made it across the falls. So we turned it on to see he was about to start. So we sat back down to see what was going to happen.
The journey took about 25 minutes full of steady, purposeful, focused steps. As we watched him walk across on the television screen, we had the chance to hear some discussion via wireless headset between Nik and his father who was watching from a broadcast truck. It wasn't really deep conversation. What we heard was Nik's father really just keeping him loose. "How's the harness feel?" "Looking good." "Slow your pace a bit."
In terms of riveting television entertainment… it was riveting, but not highly entertaining because he made the trek across the falls look incredibly easy. There were no great wobbles, no huge gusts of wind or mist to push him to the brink. He just looked ahead and put one foot in front of the other.
Occasionally they would leave his microphone open so we could hear him as he walked across. For this, I was thankful because the broadcasters left much to be desired in terms of play-by-play of the event. It hit rock bottom when they compared his walk through a bit of gusty mist to walking in a tropical storm. Sorry folks, but 10mph winds and some mist aren't quite the same as a tropical storm.
Were the winds and mist a challenge to Nik? Yes they were, but he was well trained to be able to handle it. And he made it look easy.
But getting back to his open microphone as he crossed. There were times when we heard Nik saying words we very rarely hear on television any more. And most certainly never during a high profile broadcast like this.
Nik praised God.
We heard him say things like, "I praise you God… You are my Father… Thank you Jesus, my righteous King… What a blessing."
Here is a man, all alone with millions of eyes watching his every step, walking high above the crashing waters below him on a wire just a few inches thick, and all he could do is praise God.
When he made it to the end, entering Canada, he was met by two border guards who asked to see his passport. He pulled it out of a ziplock bag and presented it to them as they asked, "What is the purpose of your trip."
Nik Wallenda's response was, "To inspire people around the world."
How fitting that this morning we are reading from 2 Corinthians 5, where we hear, "For we walk by faith, not by sight."
No doubt, I am joining with many other preachers this morning in sharing what happened on Friday night. But it's fitting.
A man solely focused on the journey in front of him. A journey taking him across nearly 500 meters of narrow wire, dripping with water, blowing in the wind, and Jesus was his focus.
To me this is the inspirational part. For others it may be the fact he was able to make the walk at all. But considering how hard he trained, how much engineering went into the event, and a harness that would not allow him to die… I mean, he's a professional, he's not going to do it unless he is amply prepared and knows he is going to make it. Sure it makes good television if there is some sort of chance of failure, but this wasn't the case.
What I find inspiring is that with millions of eyes on his every step and a same number of ears on his every word, he invoked the name and the power of Jesus Christ to give him strength for the journey.
2 Corinthians 5:6-9 says,
"So we are always confident; even though we know that while we are at home in the body we are away from the Lord — for we walk by faith, not by sight. Yes, we do have confidence, and we would rather be away from the body and at home with the Lord. So whether we are at home or away, we make it our aim to please him."
It is our aim to please God. Paul says, if we are at home in our body we are away from the Lord.
What he is saying is that here in this life, living in our bodies, living in the world, we are separated from God. This makes sense. But because we live by faith, we have confidence in what we do. Because we live in the promises God has made for us, we long to be with Him, and it is our goal to please Him in our words and our actions.
There was a study released the other day which tells how the love of a father in a child's life may actually be more important than the mother's love.
It makes sense to me. When I look around at the friends of my children, I see the one's who do not have the love of a father in their lives and see how they seek this love out in other places. And when they get older how seeking out this love leads to dangerous life choices, or depression and self-image issues, even if they cannot name the source of these issues. This is not always the case, we all can name exceptions, but the risk is much higher for children of single-mother families or disconnected fathers.
These children are seeking out someone to please, just like we seek to please our heavenly Father who is the perfect father. Our heavenly Father is not a father who will abandon us, His love, His gift is with us each and every day.
This is who we believe in. This is the One who has shown us great and wonderful love by sending us His Son to show us the way.
This is the one we can lean on in times of trial and times when we are all alone in the world. Just like the man on Friday night crossing Niagara Falls on a wire.
Are you at home in the Lord? Do you believe what you cannot see? Are you one with our Lord Jesus Christ, brother to the Son of our Father in heaven?
We thank God, we praise God. We long to be closer to God, for He is our Father in heaven. We want the whole world to know His love and His care for all His children.
May God be our focus as we walk the tightrope of life, seeking to keep out all the distractions which keep us from following a life of faith under the guidance and love of our Father.
May we walk by faith. Living a life of prayer and praise for our creator, the one who gives life and hope to all the world.
Photo from story on  CTV.ca