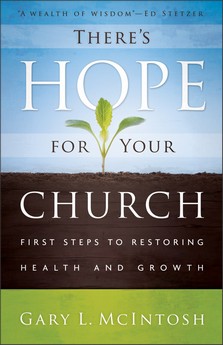 Occasionally you come across a book title that causes you to pause and wonder, "Could this be helpful?"
When I saw the title of Gary L. McIntosh's book, that's what I thought. As I am involved at various levels of our denomination in dealing with church survival I couldn't help taking a closer look at this one.
One of the first things you notice when you start reading this book is that McIntosh knows his stuff. He certainly has done a lot of work and research in this area and a quick look at his extensive list of suggested reading material shows a wealth of not just spiritual but also secular writings targeted at revitalizing organizations.
McIntosh breaks down the process of church revitalization into very usable and logical parts. Each chapter outlines what you will experience as a leader when you attempt to engage and move your congregation in a growth process. The table of contents ends up being a list of what you will need to go through as a leader with your people:
See the Potential
Commit to Lead
Assess the Situation
Learn the Principles
Discern God's Vision
Build a Coalition
Lift the Morale
Make Hard Decisions
Refocus the Ministry
Equip for the Change
Deal with Resistance
Stay the Course
Breaking Through
While this could be seen as steps 1 through 13, this will not be the case. McIntosh simply helps you realize the work to be done and the challenges you will face in a process that may have you flipping between various chapters at the same time.
As a church leader, who is actively working with congregations and a denomination in the very early stages of change, this book has been a very strong tool in helping me understand where we are and what we will need to face as we move forward to what we hope will be a bright a Spirit-filled journey of growth in our church families as faithful followers of Jesus Christ.
Book has been provided courtesy of Baker Publishing Group and Graf-Martin Communications, Inc.
Available at your favourite bookseller from Baker Books, a division of Baker Publishing Group