"7 Truths: Not By Works"
John 1:10-18; Titus 3:4-7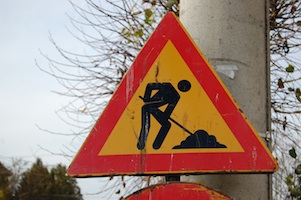 I have a question for all of you who have ever had a job. Whether it's a so called "professional" position or working at the corner store, how many of you worked hard in hopes of receiving a raise or a promotion?
We all did it right? Whenever the boss is around, we try to act on our best behaviour, we put a little extra into our effort so when it comes to the time when the boss is looking at our performance we might be considered for an increase. We want to be recognized for the effort we put in.
As I think back to the time I worked for one of the biggest high-tech companies in the world, I think about how hard I worked to gain benefits. I put in a lot of hours. When my boss asked for a report, I dropped everything in order to make sure he had it as soon as possible! I looked for opportunities to make more money, maybe get some stock options, and I had my eyes firmly on moving up the company ladder.
But something changed. The company went through some very difficult times. Our wages were frozen, no more raises. If we were lucky we might get some stock options, that were worth nothing because the value of the company stock had plummeted. People were being laid off all over the place, departments were merged, managers made redundant and even demoted. This bright future I was working towards in the company was gone. My dream of having a nice management office was gone.
I no longer had anything to work towards. I was just filling time, putting in the hours required in order to complete my tasks, and that was it. No extra hours, no extra work on reports or meetings, I fell flat. No drive, no desire, it was all gone.
My life felt empty somehow because everything I was working towards literally collapsed upon itself as the company went from 100,000 employees around the world to 40,000. Eventually the company would be divided up, sold and now it exists pretty much on paper only as lawyers and accountants divide what is left.
I could no longer "do" things in order to gain favour, I felt lost, looking for something to hold on to.
This was hard for me to accept, to figure out I didn't need to, or couldn't, buy approval because of what I was doing.
It's a hard pill to swallow when your dream has been connected to an expected outcome or goal.
We all have goals in our lives, don't we? Goals provide hope, they provide direction, the move us forward. And our goals change over the course of our life. Sometimes we achieve them, sometimes we don't, but we're usually working towards something as if there are steps we must take in order to attain the goal.
And then there's God.
We might catch ourselves saying, "What is it I have to do in order to go to heaven? Do I need to pray more? Do I need to read my Bible more? Do I need to give more money to church? Do I need to go to church more often?"
Now, I suppose I shouldn't stand up here and say don't worry about how you answer these, but what is the answer to the question, "What do I have to do in order to get to heaven?"
It's not an easy question to answer, at least on the surface because there are so many layers to uncover because we feel there are rules we need to follow and boy are these rules tough.
When you pick up the Bible and look it over, it can come across a book full of rules. Especially in the first few books when you flip through the stories of Moses and the book of Leviticus. And these rules seem hard.
These rules make us realize that we cannot possibly attain what God has laid out for us to follow. No shellfish? Stoning one another when the rules are broken? What we are to wear. How we are to look. This. That. Something else.
Then we open the book of Romans where Paul tells the church, "All have fallen short of the glory of God." (Romans 3:23)
We all fall short.
Every one of us.
This is the fun part of the sermon where I get to talk about sin. You sin. More often than you probably wish to admit, you screw up and fail in being a perfect person. We all do it. I sin. You sin. It's rampant in our culture. It always has been.
Sin, in its simplest definition, is something done against the wishes of or to God. Dictionary.com defines sin as, "any act regarded as such a transgression, especially a willful or deliberate violation of some religious or moral principle."
Any act, whether we mean it or not, that breaks the rules set forth by God is a sin.
It's in how we treat our relationship to God. It's in how we treat one another. It's unavoidable.
So then, if we cannot possibly live up to the rules, why bother? What's the use if everything we do is just going to condemn us to hell?
Part of this boils down to the realization we are less than perfect and we cannot possibly do it.
This is where we need to realize God is a god of grace. We need to realize Jesus came as an intercessor, as one who stands between this broken world and our heavenly Father, so that all may be saved. Not by rules and laws, but by grace.
In the Gospel of John we read this morning, "For from his fullness we have all received, grace upon grace. For the law was given through Moses; grace and truth came through Jesus Christ." (John 1:16-17)
What does this mean to us today? Let us look at the words from the letter to Titus, "God saved us, not because of works done by us in righteousness, but according to his own mercy, by the washing of regeneration and renewal of the Holy Spirit, whom he poured out on us richly through Jesus Christ our Saviour," (Titus 3:5-6)
The rules are important. We cannot forget the 10 Commandments which show us how to live in relationship with God and with one another. But, in acknowledging that we are going to fall short in our efforts, we turn to Jesus Christ, God among us, to show lead us and guide us back to God.
This is the gift we have been given.
When we go back to the reading I quoted from Romans 3 where it said, "For all have fallen short of the glory of God" we need to read the very next verse which says, "and all are justified freely by his grace through the redemption that came by Jesus Christ."
It is through Jesus Christ we are saved.
The book of Ephesians says, "For by grace you have been saved through faith. And this is not your own doing; it is the gift of God, not a result of works, so that no one may boast. For we are his workmanship, created in Christ Jesus for good works, which God prepared beforehand, that we should walk in them." (Ephesians 2:8-10)
It begins with, "For by grace you have been saved through faith."
Grace is the forgiving love of God poured out to us. We never asked for it, it is just given. How is it given? "Through faith." Faith in Jesus Christ which is not achieved by the works that we do, but by our response to the invitations God makes to us to follow him.
Over the last few weeks we've been looking at "7 Truths That Changed The World" based on a book by Kenneth Richard Samples. So far he's taken us on explorations on the resurrection, God coming to earth as Jesus Christ, the mystery of creation and all that is in it.
And now he's taken us to working on an understanding of faith vs. works.
This is a key point because we're talking about the need for belief today, the power of faith. Some religions out there, and even some Christians, will tell us it about us. That it's about how we are and what we do which gives us the keys to eternal life in heaven. But today our scriptures tell us is not about that at all, it's about beginning with faith. It's about starting with accepting Jesus Christ as your Lord and Saviour and believing in him as the source of grace from our heavenly Father.
This is where it starts.
From this belief we see where God is asking us to act. From this belief our lives are transformed as we allow God to work within us by the power of the Holy Spirit making us into His new creation, into His children.
My friends, do you believe that the grace of God left his heavenly throne and came to earth as a child, growing into a perfect man to show us the way home?
This is the precious gift of God. We cannot earn it by working harder or longer. We do not get raises or promotions, in fact it means we need to humble ourselves and rely on God even more.
Because when we read the rules, we realize there's no way we can do it alone. But with God, all things are possible through Jesus Christ our Lord.