This is a message I shared at a cemetery service, a service of honouring the memories of the saints who have passed before us, and also a fund-raiser for the upkeep of the grounds.
"Live in Hope"
John 1:1-18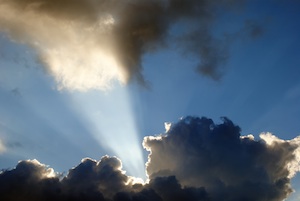 We have gathered here today for a number of reasons. Each of us have different emotions, different motives, for why we have decided to come and be part of this service of worship.
For some of us, it is a reminder of the pain of death. For others, it maybe the honouring of a loved one. For others still, it may be a chance to continue being part of community.
Whatever your reason for coming, we come to be reminded of something.
Behind mourning, behind the telling of stories, behind our fear of death and what may come after. We come needing to hear words of comfort and hope.
Death is one of the very few moments in our lives when we truly question our existence and the existence of a higher power. It is a time for somber reflection as to the overall meaning of life and our roles in it.
So we look for hope. We need hope. We long for hope.
Because if we don't have hope, what do we have? What purpose is there for us being here?
For me, there is only one true source of hope. It wasn't always that way. I used to put my hope in my career. But after 5 years, it became abundantly clear to me that Nortel wasn't going to be able to provide me with much hope.
So where is this source of hope?
From the opening verses of the Gospel of John we have these words, "In the beginning was the Word, and the Word was with God, and the Word was God." (John 1)
John is, of course, talking about Jesus. But substitute 'Word' for 'hope' and the message remains the same.
In the beginning was hope, and hope was with God and hope was God.
And we are still talking about Jesus!
Some people may claim that religion, that God, is a myth. Some sort of fantasy that people dreamed up a long time ago, maybe to calm fears around death and what happens next.
But there's a problem with that. Jesus did exist. He did walk the earth. He did miracles. He did die. He did rise again three days later.
Hope.
Paul, the Apostles, billions of people since. Such a drastic change in the world in a very short period of time shows us the truth. It's no myth, it's no fad, it's real.
It's hope.
Hope in knowing that Jesus was there in the beginning, in the forming of the universe and all that we see. Hope in knowing Jesus is God among us, coming to show us the love of the Father to all of us, who are His children. Hope in knowing Jesus is the light of the world, and darkness cannot overcome it.
When we look around the world, and even in our own communities, we can feel surrounded by darkness. When we think of death, we feel dark.
But when our hope is in Jesus Christ, we have light. We have hope in knowing that in troubled times, even in death, we have Jesus Christ with us.
John says,
"The true light, which gives light to everyone, was coming into the world. He was in the world, and the world was made through him, yet the world did not know him. He came to his own, and his own people did not receive him. But to all who did receive him, who believed in his name, he gave the right to become children of God, who were born, not of blood nor of the will of the flesh nor of the will of man, but of God."
This goes far beyond just feeling the need to be comforted by some words. This speaks to the hole in our lives, the incomplete, the piece that is missing, the thing we long for.
We long for this closeness to God. We long to be called His children, part of the great family of God.
The opportunity is there. Later on we know the famous words from Jesus as recorded in John, "For God so loved the world he gave his only begotten Son, that whoever believes in Him shall not perish but have eternal life."
We know why Jesus has come, and this is to offer and show God's love to the world, and to invite us into relationship with Him.
Hope.
The Apostle Paul wrote these words in his letter to the church in Rome, "For I am sure that neither death nor life, nor angels nor rulers, nor things present nor things to come, nor powers, nor height nor depth, nor anything else in all creation, will be able to separate us from the love of God in Christ Jesus our Lord." (Romans 8:38-39)
Hope.
Where else can you receive such affirmations, such beautiful words of hope?
There are so many different verses we can all quote from the Bible in which we can find hope. I've only suggested a couple, of course. You may have your own. You might have memorized it for when you encounter tough times. Maybe you think of one of the stories told in the Bible.
It is in God where we find true hope.
After all, He sent His love, His grace and His mercy, His Son to walk among us. So that we would know, like Paul said in his letter to the Romans, so that no matter what, we cannot be separated from the love of God we find in Jesus Christ, our Lord.
So, while we've gathered here to remember friends and family, to come and honour them and their lives, let us always remember that we are people of hope. We live in the hope shared by Jesus Christ, who showed God's abundant love, His amazing grace and His endless mercy.
This is a life of hope.
A hope of life where we gather with God, the Father, with all our brothers and sisters in His glorious presence, because we are His children.
Live in hope my friends. Live lives of joy, because God is our keeper, our protector, and our hope.
Amen.