"7 Truths: The Good in Suffering"
Isaiah 14:12-20; Revelation 21:1-7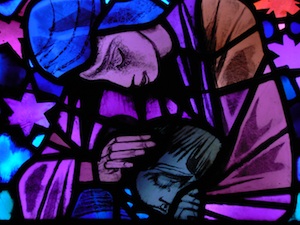 And so we have it, we've come to the final sermon based on the book 7 Truths That Changed The World by Kenneth Richard Samples. We looked at many different topics over the last couple of months. We looked at how not all men stay dead, which is to say Jesus Christ defied our common logic by living again after spending three days in the tomb.
We looked at how God himself came to earth and walked among us as Jesus the Christ. Living and teaching among his creation and his people.
We looked at the creation of the universe and we also looked at how this creation points back to its creator.
We looked at how we are saved not by our own acts, but we are saved by the grace of God. And lastly we looked at how our actions reflect how we are created in God's image.
And now we are on our final truth. We look at God's goodness in pain and suffering.
To be honest, this is one I've probably looked least forward to because it's a topic that has touched each and every one of us at some point in our lives. It's a difficult topic to approach because I know some of you are in mourning, some of you have experienced, or are experiencing pain and suffering in your life today, or someone close to you may be.
How many times have we asked the question, "Why does God allow this to happen?"
This may be particularly poignant today as we watch with horror the bombing back and forth between Israel and Palestine and the deaths of innocent people who are just trying to live their lives.
Or we think of those we love with cancer or dementia and can't help but ask the question again.
Some thoughts on the topic wonder if God is all powerful and good then if these evils exist God is either impotent or malevolent. That is, he either can't get rid of evil, or he is unwilling to do so.
These arguments are valid. I know I stand here many Sundays and talk about a God who is full of love and grace, yet even still there is much evil and suffering in the world. So how can this be?
Throughout the Bible we see people struggle with pain and suffering. No one in the history of the world has suffered more than Job as he lost his wealth, his family, his health, his friends. He was reduced to nothing. Stripped completely of everything he knew in his life and laid bare before God.
Even in our reading from Isaiah this morning we read of questioning God and his actions.
So why does suffering exist and why does God allow it?
Kenneth Samples offers some reasons that we'll take a look at:
1.God has a reason for it but won't tell us
This is a hard one for us to swallow. But basically its not for us to know, or even if God did try and explain it to us, how could we ever understand it? God tries to tell Job why what happened to him happened, but we also see Job struggle with understanding it.
2.God uses it for a greater good
As a parent I know I cannot protect my children from all things. I know there are times when I need to let them be hurt in order for them to grow. I know that I can't catch them every time they fall when they are trying to walk, because it's in the falling they learn about balance and coordination. I know they need to learn about failure and disappointment because it helps them grow.
God came to earth himself and faced unbearable pain and suffering at the hands of the Romans. Yet even there he rose from the grave and gave us the greatest gift we could ever have received.
God is able to rise above suffering and give us greater things.
3.To get someone's attention
There is a greater understanding behind pain and suffering which God alone understands. God has this amazing ability to use pain and suffering to create a greater good. I know people who have literally hit rock bottom in their lives. Succumbing to drugs and alcohol; finding themselves in lives of crime; all to turn their lives around when they encounter God in these lowest of lows.
We don't always see these results, but people can and do change when they encounter God at the end of their rope. There is plenty of proof where God has used this kind of pain and suffering as a chance for amazing healing. God did not allow the pain and suffering, or punish someone with it, but God used it.
4.Natural Forces are required
Why did God allow that tornado or hurricane or earthquake or volcano? All great questions. The simple answer is that these natural phenomena are all part of how the earth has been designed to balance itself. Without these natural forces the earth would be very different today. They help replenish the earth. They help move things and shift things in order to maintain a balance. Now unfortunately we are so abundant in the world we often get in the way of the natural forces. It's unavoidable, and we, as a race, are probably responsible for why they are intensifying. But these things are part of the natural order, they've been here far longer than we have. Science even tells us these are what helped shape the world as part of its creative process so many millions of years ago.
5.God's Glory Will Be On Display
We read in the Bible that someday God's kingdom and reign will return to the earth. I'm going to reread our scripture passage from Revelation this morning because it bears repeating.
God said to the prophet,
Then I saw "a new heaven and a new earth," for the first heaven and the first earth had passed away, and there was no longer any sea. I saw the Holy City, the new Jerusalem, coming down out of heaven from God, prepared as a bride beautifully dressed for her husband. And I heard a loud voice from the throne saying, "Look! God's dwelling place is now among the people, and he will dwell with them. They will be his people, and God himself will be with them and be their God. 'He will wipe every tear from their eyes. There will be no more death' or mourning or crying or pain, for the old order of things has passed away." He who was seated on the throne said, "I am making everything new!" Then he said, "Write this down, for these words are trustworthy and true." He said to me: "It is done. I am the Alpha and the Omega, the Beginning and the End. To the thirsty I will give water without cost from the spring of the water of life. Those who are victorious will inherit all this, and I will be their God and they will be my children."
God has promised he will overcome the sin and darkness in the world. Until that day, we live under the rules of the earth. That is we have free will as he granted us in the beginning. Free will to choose to do good or evil in our daily lives.
Even with these 5 explanations for pain and suffering, we are still left with questions. Why are good people hurting in the world? Why are there the poor and the oppressed?
I don't know.
But what I do know is that God is for us. That God has a plan and I just trust that whatever happens, God is among us just as he promised he would be. He is here in our joy, he is here in our pain. We are never alone.
A friend share this quote the other day by Ronald Rolheiser, a Roman Catholic priest and president of the Oblate School of Theology in San Antonio, Texas. He said,
"We need a theology of brokenness. We need a theology which teaches us that even though we cannot unscramble an egg, God's grace lets us live happily and with renewed innocence far beyond any egg we may have scrambled. We need a theology that teaches us that God does not just give us one chance, but that every time we close one door, he opens another one for us."
My friends, no matter where we are in our lives, whether we are full of joy and fulfillment or whether we are living in pain, God is with us.
God has a plan for each and every one of us. We know there is healing at some point. It may not be for our disease, but it's there for our souls. Let's let God speak to us and show us how to live in the lives we find ourselves living.
Let us live as people who seek to glorify God in all we say and all we do. For this is our calling as children of God.