"Christmas Characters: The Angels"
Luke 1:5-20, 26-38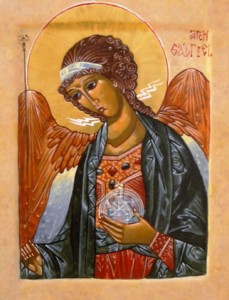 And so we begin a new season in the church this morning. It's the time of year when we sing about presents and snow and a big guy in a red suit, and bells and babies and also Christmas Angels.
So I thought I would take the time this year and look at some of these characters a little bit closer and see how they fit into the story at this time of year, and how they have been chosen to proclaim and welcome the Saviour of the world.
Angels are part of God's heavenly plan and kingdom. They have roles to fill and are found many times in the Bible.
The three most prominent Angels that are named are Michael, Gabriel and Lucifer.
The one we hear of most this time of year is Gabriel. He is the angel who came to spread the news that Jesus Christ is coming.
But first we might wonder what angels look like. Are they the beautiful, effeminate beings with soft skin and fluffy wings we so often see in popular art?
Looking through scripture we can see this is not likely the case. Many times when people encounter angels in the bible we see they become afraid, sometimes even frozen in fear.
Angels are warriors, protectors of God's creation, sent to protect us as God's children. Twice we heard Gabriel say in our reading from Luke this morning, "Do not be afraid." The first thing he had to do was calm Zechariah and Mary down so they could hear what he had to say.
Angels are key to God's plan. Angels protected Lot and his family when they were under attack in Sodom. Angels were active in the life of Abraham as he obediently followed God's call to move to a new land and to have a son. Moses credits the angels for getting them out of Egypt and across the desert. Angels are active in the lives of the apostles as they shared the Good News of Jesus Christ in the book of Acts.
In the heavenly kingdom it seems angels are near the bottom of the totem pole. We are told in scripture that when we are called into the presence of God we are seated above the angels. Angels cannot marry or procreate, they celebrate when one of us comes to be saved by the grace of God, but they themselves have not experienced this. The act of salvation is something only we as human beings can experience because we have been separated from God. Angels are always in God's presence, so they cannot experience this separation, they are part of God's kingdom, they can help facilitate salvation, but they themselves are not directly part of the process. The act of salvation is solely between God and ourself.
One of the things to consider is that we do not become angels. God does not call his children home to become angels. God already has angels, in death we are welcomed into God's kingdom as heirs of his promise, that is eternal life of joy, peace and love. When we die, if we believe in our Lord Jesus Christ as the Son of God the Father, we inherit our place in God's kingdom.
In this season of Advent, we take our time to prepare our hearts for something very special.
Advent is not about shopping, stressing, planning or buying. Advent is about expecting, hoping, preparing and praying. It's a time to prepare our hearts and our homes for something very special. It's a time to celebrate the birth of our Saviour Jesus Christ, it's a time to prepare ourselves for the return of God's kingdom to the earth. Advent is a time to welcome God into our daily lives.
And yet we're supposed to do all of this in a time when we're expected to shop, plan, stress and buy.
It's a time to stop and reflect on what happened during the Christmas story. It's a time to stop and hear what the angels have said, ""Do not be afraid, Mary; you have found favour with God. You will conceive and give birth to a son, and you are to call him Jesus. He will be great and will be called the Son of the Most High. The Lord God will give him the throne of his father David, and he will reign over Jacob's descendants forever; his kingdom will never end."
Advent is a time to realize just how great and wonderful a gift God has delivered to us. To remember how God came to earth himself, not as a king born in a palace, but as a babe born in a lowly manger, proclaimed not to royalty, but to shepherds by angels.
Angels who sang of his birth, "Glory to God in the highest heaven, and on earth peace to those on whom his favour rests."
God's great peace has come. God's great love has come.
And on this first Sunday of Advent, may we be filled with hope as we remember and take into our hearts this promise of God who is with us from the beginning to the end and forever more.