"They Won't Be Expecting That!"
Matthew 2:1-12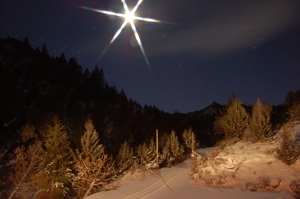 The video with the children (previously posted, click here) and the what they perceive to be the lead-up to the first Christmas is cute, but it also carries a powerful message.
In the video God is talking about how things aren't quite working out. How people aren't quite responding as much as God would like them to respond. So, He decides now is the right time to take the next step in the plan.
So begins the big debate about who to send, where to send him, how to send him, and what will happen.
All along there's the common refrain, "Brilliant! They won't be expecting that!"
And no one did.
No one expected a baby born in Bethlehem. No one expected the Messiah would be born to a peasant girl and her carpenter husband. No one expected it, because they were looking for something greater. They were looking for a king, born in kingly circumstances. Palaces. Parties. Celebrations.
Not a barn. Not in a small, out-of-the-way village. And certainly not to a peasant girl.
"Brilliant! They won't be expecting that!"
Today marks the end of the Christmas season. The 12 days of Christmas are over. Today we celebrate Epiphany, the day we recognize as the day the magi from the east come to visit the new born King.
On their way these magi stop in to see the king of region, Herod, asking about this child who has come. Herod becomes troubled and begins to search out more information about this child. Where is he? What do the prophesies say?
He asks the magi more about these signs they saw, more about this star they say they followed. Seeing an opportunity, he sends them off as unintentional spies to find this child.
And off the magi go. They find the child as predicted in the family home in Bethlehem and they bring him the gifts they have carried so far.
"Brilliant! They won't be expecting that!"
So often we look for great and undeniable signs from God. We expect Him to shake the earth with and say in a booming voice, "THIS IS MY PLAN FOR YOU!"
But that's not how it works. God works in the background. God whispers to us from the shadows. He nudges, He urges us at unexpected times in unexpected directions.
God shows us the way in unexpected circumstances. He hides it in the stars. He plants new life in a peasant girl. He reveals his love in a stable.
"Brilliant! They won't be expecting that!"
In 2013 we should watch, listen and wait for God. We should be aware of the work being done around us, because God's work will be done, but in unexpected ways.
I have a second video to share with you this morning. ("Brilliant! They won't be expecting that!")
I think many of us know that Commander Chris Hadfield is a Canadian astronaut living on the International Space Station. I bet you didn't know he's a musician as well! Commander Hadfield is up there interacting with people on Twitter, sharing pictures and little notes. But he is also with his Canadian made Larivee guitar playing music.
Over Christmas he wrote and recorded a song, the first ever original recording made in space! And he shared it with the world.
It's a beautiful song, singing of the signs of Christmas and the desire for peace and love in the world. It's called "Jewel in the Night"
In this season of responding to signs, travelling great distances to come to Jesus the Christ, we come as people of God, His children, seeking to be ever closer to His love, His peace, His joy, His plan for the world, given to us in the Christ child. The one who came to be light and life in a world of darkness and death.
Thanks be to God for this gift, this life who would give of Himself so that we may be one with Him forevermore.