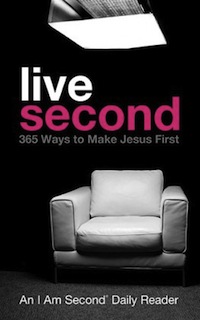 It's taken me a while to pick up this book. I've been busy. I've been in important meetings helping people make important decisions. I've been in demand.
And it's worn me out.
I've neglected my relationship with God.
So I've been thumbing through live second: 365 Ways to Make Jesus First, a book I received months ago, but was too busy to pick up.
It's a journey. This book is not unlike a lot of other devotionals out there, it's goal is to help us grow daily in our relationship with God. It does occasionally point you to a video on their website. It encourages you to work with others in helping you in your relationships. It tries to help you see it's best to put Jesus first in your life.
And maybe, if you are in the right place in your life, it will.
Book has been provided courtesy of Graf-Martin Communications and Thomas Nelson.