2013 is over.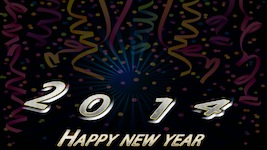 2014 is here.
This past year was an interesting one.
Personally, I think it was a good year. Some highlights are that I joined a rotating roster of panelists on a local radio show, and appear semi-regularly to discuss new issues particular to that week. I've started coaching basketball, and I'm having a lot of fun doing it with some pretty fantastic and enthusiastic elementary girls. I've grown some connections with some pretty amazing friends. I've been part of a few book releases (more to come in early 2014) and I've had some great ministry opportunities. Cruxifusion 2013 being one of the highlights.
I've also celebrated 15 years with my beautiful and amazing wife. We spent the year partaking in 15 Cape Breton adventures, with only one more to go to complete our list before our 16th anniversary in the spring. We found some great beaches and hiking trails. We sampled some amazing local restaurants. We tried new activities. It was a really fun way to celebrate.
Denominationally, it's been a struggle this year as the United Church of Canada continues to search for meaning and direction to its future in this country, exploring models of existence and structure. I confess I've been following this conversation somewhat skeptically, but also with hope that God will make himself known powerfully in this Church.
So what will come in 2014? Who really knows? I want to continue to grow a community of faith in my church and community with the help of some excellent ecumenical partners in the area. We all recognize there is a great need in our area for healing of broken lives and a great need for hope in a struggling community. The church needs to be a safe, open place to help facilitate this. This is my prayer for 2014, to help people find hope in the struggles of life. It's a big one, but I trust in God that He will make it happen.
I also hope I can get back to some regular blogging after a year of sporadic posts (my stats for the year show a huge decrease in traffic as a result, nearly 50% drop in page views).
My top read post for 2013 was this one: Prayers For and Of the Church written last spring after my denomination announced staff cuts to help address budget shortfalls. It was followed by my Adventures post linked above.
Thank you all for travelling with me in 2013, and I hope our journey together continues through 2014 and beyond!
God bless,
Nick