Yes, I do like the show, but I also enjoy the lecture series.
Over the last few weeks I've been constantly tired, having trouble sleeping, all signs that I was in need of a get away for a couple days.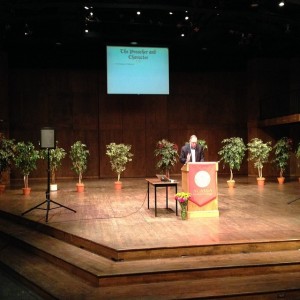 So I packed a bag and headed out to Wolfville. Early February, for quite a few years now, Acadia Divinity College hosts the Simpson lectures where they bring in a guest speaker to share some thoughts, experiences, insights to get us thinking. There are also some workshops which we can take in as well.
This year the speaker was presenting a paper on the "Character of Preaching" by Dr. Scott Gibson. While the presentation lacked a bit because he read more than he might have liked (he is an engaging preacher and good story teller), the content was thought provoking as we (as preachers) seek to develop and disciple our congregations.
I also took in workshops on leadership and evangelism.
So much to think about as I came home… who can I help develop as a leader? What sort of outreach can we engage in? How's my preaching helping people grow in their faith?
I'll continue to look over my notes, praying and seeking God's direction in these areas. I believe God is putting things in place for some fantastic outreach and sharing of His Gospel. I look forward to being part of it, whatever it may look like!
I come home rested, refreshed, and ready to see where God may lead us. Especially though the upcoming powerful Lenten season.