Five years ago tonight I stood on an outdoor stage on a lovely spring evening in Montreal in front of hundreds of people. And in one quick moment both ended one journey and began another.
Five years ago tonight, I moved from being a candidate/ordinand/student to become Rev. Nick Phillips, minister in the United Church of Canada.
It wasn't an easy journey to get to that point. There were 6 years of hard work, pain, tears, soul searching, and nights deep in prayer leading to that night.
And now, five years later I can say it's all been worth it.
I love the work I have been doing in the church God has called me to serve. Never in my wildest dreams would I have predicted that I would have met the amazing people I have met. Sure I knew I would love the people in my churches, but I never expected to meet and make deep friendships with colleagues, especially those who are in Cruxifusion.
And speaking of Cruxifusion, I certainly never expected to be part of such a strong, passionate voice for Jesus Christ in this denomination. Never did I expect to find such a home with previously mentioned friends as part of a national movement. Never did I expect to find such support after years of feeling very isolated.
The past 5 years I have learned a lot. I have grown a lot. I have experienced a lot. Extremely high moments, and deeply painful moments as I've traveled with people on their journeys in life.
I want to thank everyone who has been part of this journey from the beginning. I want to thank Parkdale United Church where it all began. The wonderful people there who formed me and supported my family in amazing ways.
To the churches I served while in school. The Sambro-Jollimore pastoral charge, Fairview United Church, Hillcrest and Sturgeon United Churches in PEI. You all helped me grow and learn in amazing ways. Thank you for your support and encouragement.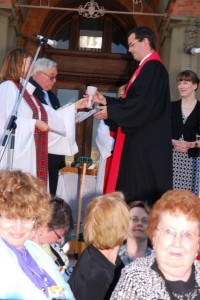 Many thanks to the friends I have made over the years who helped me see how God was calling me to serve, and for just being there as friends.
Many thanks to Carman United Church where I now serve. The wonderful people, the continued support and encouragement you give me each and every day. It is an honour and a privilege to serve with you here in Cape Breton.
To my wife, Bev. You are my love, my best friend, my rock throughout the journey. Without you, this journey would have never happened. Thank you for being in my corner all the way, and for the sacrifices you made to allow me to pursue this call. May God continue to bless our journey.
To those I have forgotten to thank, I apologize. But know I appreciate each and every person who has been with me over the last 11 years. I love you all.
God bless you.
Your brother in Christ,
Rev. Nick