Scripture Reading: Romans 6:1-4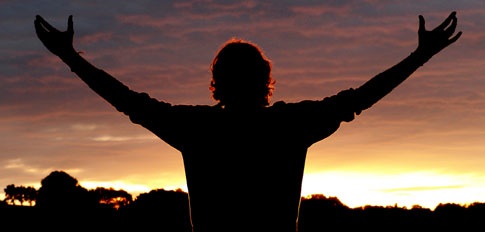 A quote that is often attributed to Albert Einstein is "The definition of insanity is doing the same thing over and over again and expecting a different result." Although it most likely wasn't him. The internet isn't the best place to look up quotes these days. But there is some truth to it, whoever said it.
Now for me, I wouldn't mind losing a few pounds. It'd be nice to lose a bit of the spare tire that's forming around my midsection. For some reason I've not been all that successful.
Now it might have something to do with the fact I'm not eating any better, nor am I exercising any more. It seems just sitting around and wishing it would go away isn't working while I keep doing the same things I have been doing for the last decade, which led to me gain this weight. Go figure.
At some point, I need to realize that I may actually have to do something, to change something about my lifestyle to facilitate some weight loss.
I'm not quite there yet. I might be getting close though.
Don't tell me I'm alone in this. I'm sure you've got something in your life you'd like to change, but just haven't found it within yourself to take on the challenge to change. Am I right?
For me, it's that I really like food. So I have a couple of options, give up some of that food, or start exercising a whole lot more. But to start exercising more, I would need to give up something else to make time to exercise. Ideally it would be both; I would give up some food and start exercising more.
But, you know as well as I do, when you get comfortable with a certain lifestyle, it's hard to change things.
Paul, in his letter to the Romans is dealing with a similar issue.
At the end of Chapter 5, Paul says, "Now the law came in to increase the trespass, but where sin increased, grace abounded all the more, so that, as sin reigned in death, grace also might reign through righteousness leading to eternal life through Jesus Christ our Lord."
Paul is talking about how God continues to pour out His grace and love on the world, despite its sin.
He points out when sin has increased in the world, it seems like God's faithfulness increased. God seemed to be more present, more loving, more gracious in those times.
So someone might argue, "If I sin and God still loves me, and loves me more when I sin more, then why would I stop sinning?"
It's a very good question.
What's wrong with everyone saving up for a death-bed confession? Why not party it up all your life long and then ask for forgiveness and love at the last possible moment?
Well, there's a few problems with that approach. What happens to the person who gets hit by a bus crossing the street? What if we don't get chance for the last minute conversion? What happens then?
I'm guessing we don't want to know.
But Paul is more worried right now about who we are as people who know God right now. For Paul, if we have encountered Jesus Christ in our lives, there is no other option, we have given up our sin. He says, "How can we who died to sin still live in sin?"
Paul goes on to explain that if we have given ourselves to Jesus Christ as an act of faith, then we were buried with him in his death, and raised with him in his resurrection.
Paul writes, "We know that our old self was crucified with him in order that the body of sin might be brought to nothing, so that we would no longer be enslaved to sin. For one who has died has been set free from sin."
Jesus Christ died for our sins. On Good Friday, Jesus took all the sin of the world upon himself and showed it has no power. Jesus died, yes, but he did not remain in the grave. Jesus overcame the power of sin by walking out of the grave on Easter morning. God's love, God's grace, God's power over the evil in the world was shown for our sake.
As people who believe, how can we ignore this fact? How can it not impact our lives in an incredibly powerful way?
Jesus died for us, and in coming into a relationship with him, we die with him. This is what Paul is saying to us today. Jesus died for our sin, so if we accept him as the Son of God, and this gift of love, we too have died to our sin.
"For one who has died has been set free from sin." Paul is telling us we are free. In dying with Jesus, we have been set free from the sin in our lives.
We are free! What a gift we have been given by our God. No longer are we slaves to sin, instead we live in the grace of our Father in heaven.
Paul writes, "For the death he died he died to sin, once for all, but the life he lives he lives to God. So you also must consider yourselves dead to sin and alive to God in Christ Jesus."
So much in the world holds us prisoner. There can be many things which hold us down. But the sin in our lives is what limits us the most. It's the sin in our lives which holds us back from fully embracing God's love for us. It's our sin which makes us feel unworthy of God's love.
Paul tells us plainly, we can be free from sin when we know Jesus Christ. When we realize he gave his life for us. When we realize he rose from the grave in victory over our sin. When we realize this, we have life. We are free.
In Paul's letter to the Romans he repeats over and over again, it's now how well we follow rules, it's how we live in faithfulness to God through a relationship in Jesus Christ.
We cannot find life in rules. We cannot find life in our possessions or our wealth.
We find life in Jesus Christ.
He is the one who will never die. He is the one who calls us his brothers and sisters and brings us to the Father. Jesus alone does this.
We have two options. We can submit ourselves to death and sin and waste away our lives apart from God…
Or we can submit ourselves to God and the life offers to us in Jesus Christ.
One may sound easier than the other. One might make us feel comfortable, familiar, relaxed. One doesn't change anything. It keeps us just as we are.
But God loves us too much to leave us as we are.
A life in Jesus Christ transforms us, it makes us a better person. A life in Jesus Christ naturally keeps sin at bay as we seek to be more like him, to be closer to God, and to know God's grace.
Some final words from Paul…
"Let not sin therefore reign in your mortal body, to make you obey its passions. Do not present your members to sin as instruments for unrighteousness, but present yourselves to God as those who have been brought from death to life, and your members to God as instruments for righteousness. For sin will have no dominion over you, since you are not under law but under grace." (Romans 5:12-14)
Jesus Christ sets us free.
Let us live with him in the grace and love offered to us by our Father in heaven.