Scripture: Acts 2:1-4; Romans 8:18-39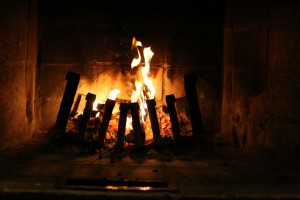 Fire is an interesting phenomenon. Of course over the last few weeks we've seen plenty of fires in Cape Breton as fire departments have fought all kinds of grass fires lit by misguided people who thought it was fun to play with fire. Every year I am amazed no one dies in spring grass fire.
Fire is not to be played with. Fire can be quite dangerous. Fire by it's very nature consumes that which feeds it. It destroys homes, businesses, forests, fields, crops. Fire can cause a great amount of damage, both physically and financially.
Yet fire is also a good thing. You hear reports of how forest fires often are healthy for the woodlands. It burns out the old dead materials, making room for new growth to occur.
Fire also purifies. The heat it gives off can kill unhealthy germs or organisms which may harm us.
Fire also warms us. Campfires, fireplaces, furnaces, all use fire to produce heat. Fire is used to cook meals as we can prepare our dinners over the heat fire produces.
So while fire can be a very dangerous thing, it can also be used for good. If you are lost on a hike during a cold day, then making a fire is the most important thing you can do in order to survive.
On Pentecost, we're told the disciples are touched by "tongues of fire" and they began to speak as the Holy Spirit guided them.
The disciples were purified when they received the Holy Spirit. Those tongues of fire cleansed their hearts and they were able to go and preach about Jesus Christ and what he has done as God among us.
That's where it begins. That's where we find God's promise fulfilled when Jesus says, "I will be with you always, to the end of the age." Or when Jesus told his friends, "I will send you a Helper."
The receiving of the Holy Spirit on Pentecost is the fulfillment of those promises. Jesus returned to God and sent a guide, a helper, the Holy Spirit to be with us.
This is something we need to remember. Jesus has not left us alone.
It's also something we remember when we look at our reading from Romans 8 today.
In Romans 8 we are reminded we are people who struggle. We are told by Paul that the whole world groans together waiting for God to redeem it. And we part of this waiting as well.
We live in hope that we are saved, that we have been drawn into God's family as we come into a life of faith. As we come to God it's like we are adopted by our Father in heaven.
I like what Paul says in talking about hope. He says, "For in this hope we were saved. Now hope that is seen is not hope. For who hopes for what he sees? But if we hope for what we do not see, we wait for it with patience."
We don't hope for what we can see. Hope from God is something we cannot see, but it sure is something we can experience. While we know it's there, we wait for it. We wait for God to make himself known to us, however he wishes to do so.
We won't see God while we're on this earth, at least it's not likely. Unless Jesus makes his return, there's a pretty good chance we're going to have to wait.
It's in that waiting where we grow, as we seek to learn more about God, as we learn more about Jesus, as we pray, as we read the Bible, as we ask God to make himself known to us.
There's also the experience of the Holy Spirit. Paul tells us a bit of his interpretation of what the Spirit does for us.
"the Spirit helps us in our weakness. For we do not know what to pray for as we ought, but the Spirit himself intercedes for us with groanings too deep for words. And he who searches hearts knows what is the mind of the Spirit, because the Spirit intercedes for the saints according to the will of God."
We are a weak people. We don't fully understand what God wants from us. We strive to be the best we can, but we often fail. But the Spirit… the Spirit works on our behalf.
When I moved to Ottawa for the first time for a work term, there were a few of us travelling together. We stopped just outside Quebec City for a meal. I had some high school French, so I thought I would take the opportunity to practice, knowing Ottawa was a bilingual city.
I decided to order my meal in french. I didn't think it would be too hard, it was just a diner and all I wanted was a burger and fries. The words were all printed in french and english on the menu.
So I made my order. The… "lovely" waitress was so very helpful as she repeated my order back to me in an incredibly rude tone… in english.
So I guess in a way through my broken french I was able to convey my order as she gave it back to me in broken english. At least it was good enough she could interpret it.
I had thought I did a pretty decent job. I was initially proud of myself for making my order. But when she came back at me to confirm in english, I felt like my attempt was under-appreciated. Maybe I needed a translator.
Imagine the Holy Spirit interpreting perfectly for us. In our broken lives, the Holy Spirit speaks on our behalf perfectly with God. There's no misunderstanding possible.
We probably use the wrong words, we get verb tenses wrong, we just don't know what we're saying. But the Holy Spirit, it knows what we need and asks for us.
We grow with the help of the Spirit. God uses the Spirit to not only hear our prayers, but God also uses the Spirit to lead, guide and form us.
Just like he used the Spirit to transform the disciples on the day of Pentecost, God too transforms us.
This is the depth of God's love. He loves us too much to leave us as we are. He works in us through his Spirit, helping us grow, leading us, protecting us.
Paul says, "If God is for us, who can be against us?"
This is a powerful verse. If God is FOR us, who can be against us?
God is for us!
This promise reverberates throughout the entire Bible.
From all the way back at creation, right through to the end of the book of Revelation, God's promise is he will never leave us. He will never abandon us. Even in our biggest mistakes, God is right there with us.
Paul finishes Romans 8 with these words,
"Who shall separate us from the love of Christ? Shall tribulation, or distress, or persecution, or famine, or nakedness, or danger, or sword? As it is written,"For your sake we are being killed all the day long; we are regarded as sheep to be slaughtered." No, in all these things we are more than conquerors through him who loved us. For I am sure that neither death nor life, nor angels nor rulers, nor things present nor things to come, nor powers, nor height nor depth, nor anything else in all creation, will be able to separate us from the love of God in Christ Jesus our Lord."
Paul says it all, NOTHING can separate us from the love of God shown and offered in Jesus Christ.
No thing. Nothing.
My friends, Jesus has done it all. Jesus gave his life for our sin. Jesus rose from the grave to defeat our sin and the evil of the world.
And now Jesus gives the Holy Spirit so we may be in perfect relationship with our Father in heaven.
This is what our God has done for us.
In a world which groans for a deep relationship it cannot find, we have it.
We have discovered it's right here. This incredible hope from our God, hope in a future far greater than we can imagine. Hope in a life lived in love and joy. Hope in God's promise to always be with us.
A promise he fulfilled with his disciples on this day of Pentecost.
A promise God never walks away from. A promise once we discover, we too will never want to walk away from.
A promise to always, always live in His love.
What a gift.
What a God.
What a Saviour.
Amen.