I'm back home this morning after a week away for two separate events. First was Youth Forum training weekend and then to our annual Cruxifusion conference.
I've heard Cruxifusion described as "soul camp" in previous years, and it truly is. This year was no different in that regard. We lived out our theme very well with "Rest. Reconcile. Revive!"
We rested in the arms of our Lord. We felt God's healing touch. And we came out renewed in our spirits to continue the works God has set before us in our communities.
This year was different. This year we included a lot of prayer opportunities throughout the week. We had dedicated prayer space and a "Prayer Summit" on Tuesday night led by Connie Den Bok.
While I was busy running and setting up for events and never made it to the prayer room for any of the sessions, I was able to be part of the summit. It was a powerful night of prayer. But not just there, the stories I heard coming out of the prayer sessions, and related conversations, God was doing BIG things this week in people's lives.
It was about a week before the conference I picked out a scripture reading to use in my sermon which would close the conference. On Monday, it was read twice. Once by our worship leader and then used by our first speaker of the conference. And then one of my support scriptures began to pop up over the week. God was having fun revealing himself all over this conference, and we were delighted to be meeting Him in that space.
While I was preaching, I had a huge cross behind me, and this stained glass window in front of me.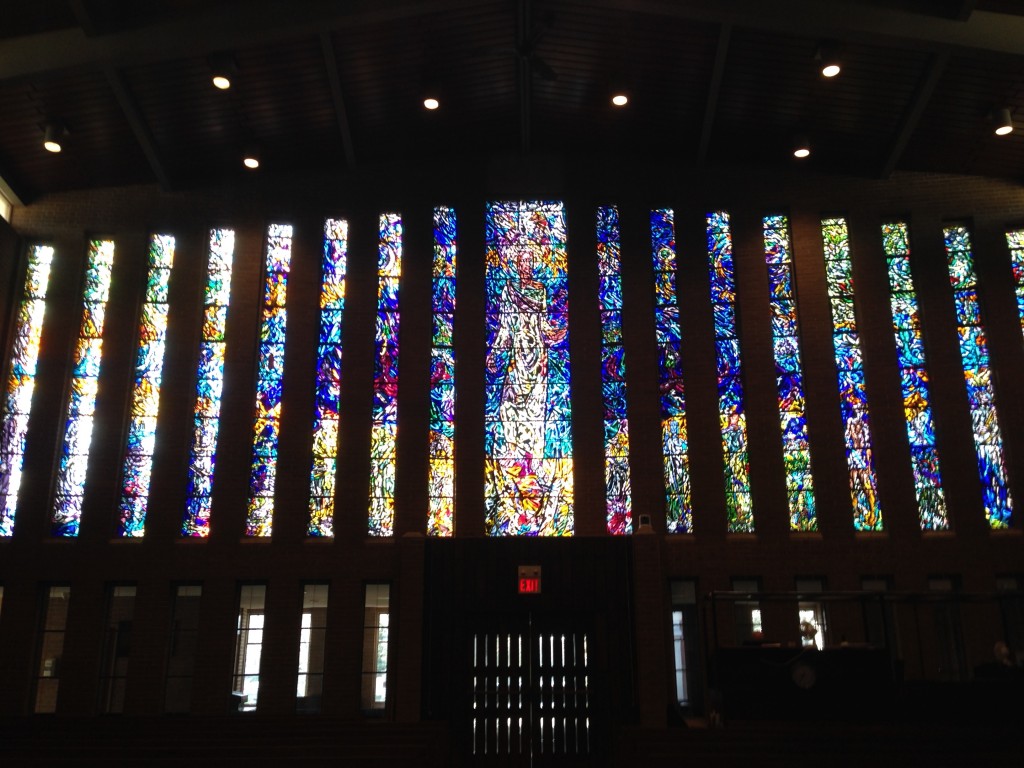 What an incredibly powerful image of our resurrected Lord to be looking at, and yet very humbling as we try to use mere words to describe the majesty of our God.
While the content of the gathering was excellent as always, it was the in-between stories, the connections, which make it special. Stories which aren't mine to tell, but are one's which live on in my heart as I too experienced personal contact with God this week.
Things I will be reflecting on and unpacking over the next few weeks for sure as more stories and connections will no doubt emerge as people go back home and share what they have experienced over those few days together.
I am also honoured and humbled to have been named as chair of Cruxifusion, to have an opportunity to offer leadership to an amazing organization which is more family than anything else. A family with so many gifts to offer, such passion for serving our Lord Jesus Christ, and a heart for sharing his love and message with the world.
Thank you to my brothers and sisters in faith, and may Christ bless you abundantly in your ministries.