Scripture: Romans 5:1-11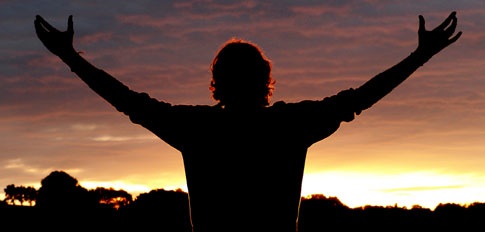 Do you think you could ever pick up a newspaper and understand a lead story when it starts like this, "But since that is the case, we have to assume the following…"
It wouldn't make much sense would it. It just jumps right in assuming you know something. But you might not. You need to know what the case is before you can buy into what is being said after. You need to know the story.
So, today our reading began "Therefore, since we have been justified by faith…"
"Therefore…." We need to know what the "therefore" is referring to. Therefore, let us look for what came before the "therefore" in our reading this morning.
Last week we looked at Romans chapter 1 and Paul introduced us to the importance of a life of faith. By living a life of faith we move towards living in righteousness, that being a life right with God.
Paul then spends much of the next 3 chapters explaining what this means. He talks of the challenges of living under the laws, and how under these laws we learn of our sins because we learn we are breaking these laws. He talks of the challenges of living a righteous life. And he also acknowledges no one can truly be righteous. He says plainly, we are all under the control and power of sin. He quotes from the the Psalms in Romans 3:
"None is righteous, no, not one;
no one understands;
no one seeks for God.
All have turned aside; together they have become worthless;
no one does good,
not even one."
If Paul is saying this, what are we to do? We can't follow the laws, because we keep breaking them and keep sinning when we do.
Well Paul says we are to not live lives according to the law, but we are to live lives according to faith. He says,
"…for all have sinned and fall short of the glory of God, and are justified by his grace as a gift, through the redemption that is in Christ Jesus, whom God put forward as a propitiation by his blood, to be received by faith. This was to show God's righteousness, because in his divine forbearance he had passed over former sins. It was to show his righteousness at the present time, so that he might be just and the justifier of the one who has faith in Jesus."
It's not about the laws, it's about faith.
Paul also lifts up Abraham, seen as the Father of the faith. Abraham, chosen by God to give the world His chosen people, even though Abraham was an old man without children. And in the description of Abraham, he was not known as a man who followed the laws, in fact the laws didn't exist yet, they came much later. Abraham was a man known for his faith. He was known as a righteousness man and God made a covenant, a promise, to raise up a nation from him.
With this same faith we are invited to enter into a life with God through the our Lord Jesus Christ.
And Paul says, "It will be counted to us who believe in him who raised from the dead Jesus our Lord, who was delivered up for our trespasses and raised for our justification. Therefore…"
And we're all caught up to today's reading. What we needed to know before the therefore was the importance of a life of faith and what that looks like. It doesn't mean subscribing to a bunch of rules as if it's a list of boxes to be checked off as we complete them. It means living a life of faith which forms how we interact with the world.
Remember Paul says you cannot separate faith from the works we do in the world. From our faith we do work in God's name.
The first half of our reading today makes you wonder if we're doing it right. We're supposed to rejoice in our suffering? Well, I'll be sure to tell that to the people I talk to in hospital, with cancer, with the families I meet during funerals… I imagine I'd be run out of town if that was my approach to pastoral care.
"Well, isn't this wonderful! You're in pain? LOVE IT! God is SO GOOD!"
Yeah, I don't think that would go over well.
So what is Paul saying?
He starts by saying, "Through Jesus Christ we have also obtained access by faith into this grace in which we stand, and we rejoice in hope of the glory of God."
We rejoice in the hope of the glory of God. God's glory is full of hope. So when we find ourselves in challenging times, Paul suggests we look to opportunities on which to produce this hope, to find this hope.
So when we are suffering, know that in our suffering we are building endurance. We are getting stronger. And in getting stronger we are building character. We are growing as a person. And as we grow as a person we begin to see more hope in the glory of God.
It doesn't mean God will take away our pain. It doesn't mean God gave us our pain. It just means God is here.
We need to remember God is active in all of this. What would be more comforting to you in a time of pain? Would it be a knowing about God, or would it be knowing God is walking in the pain with you?
This is what God has shown in the cross. God shows in the life and death of Jesus he knows our pain. The cross is crucially important for Paul.
He says, "For while we were still weak, at the right time Christ died for the ungodly… God shows his love for us in that while we were still sinners, Christ died for us."
Notice Paul doesn't say use singular pronouns, he says, 'us'. He means all of us, himself included. In Christ's death, we have been reconciled to God. And since we are reconciled to God in the cross, we will be saved by God through Christ's resurrection life.
And there's power in the words "While we were still weak…"
It means God didn't wait for us to get our act together, because as Paul already established, it's not going to happen. We can never put it all together on our own.
So while we are weak, God has already done it for us. God acted before we were even ready.
Think about that for a second.
God acted because we cannot do it ourselves.
In one incredible act of love and mercy, God drew us to Himself before we even knew it could happen.
I love having conversations with people who tell me stories of how they saw God active in their lives without even knowing Him. Sure they say they knew of Him, but they didn't have a relationship. They didn't know Jesus Christ in their hearts as they do now.
I enjoy these stories because it's also my story. I'm not going to share details, but if I had been left to my own devices, my life would look very different right now. But I look back and see how God stepped in and protected me, guided me, without my even knowing.
I knew of God. I had heard of Him. But I didn't know Him. I didn't have a relationship with God through Jesus Christ.
I was weak. I was a sinner. But God acted in my life because he loves me.
Don't get me wrong, I'm still weak, I still sin. But now I am stronger because Christ is in me.
God does the same for all of us. God works on our behalf because we cannot do it alone. It's impossible. But God can do the impossible.
God can save us.
God WILL save us.
Paul says,
"For if while we were enemies we were reconciled to God by the death of his Son, much more, now that we are reconciled, shall we be saved by his life. More than that, we also rejoice in God through our Lord Jesus Christ, through whom we have now received reconciliation."
And we can add to that, salvation.
God saved us with His Son, Jesus Christ, on the cross and in his resurrection.
We belong to God. Not through our knowledge of Him, but through our relationship with Him. A relationship which begins in Jesus Christ, our Lord.
A relationship, which shows us the hope we have in the glory of God as God shows His love for us in His Son.
"Therefore, since we have been justified by faith, we have peace with God through our Lord Jesus Christ."
The words of Paul ring true. Thanks be to God. Amen.