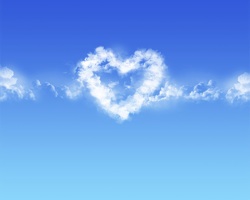 This week we did a strange thing together as Christians. Did you notice it? This past week during our lunches we did something new, and it was a little odd. What was it?
Our theme for the week was "Singing our way to the cross!"
What do we most associate singing with? We associate it with celebration. Sure we sing at other times, music has been created to soothe all kinds of moods. But singing our way to the cross sounds to me like an act of celebration.
How can the cross be a celebration?
It's the place where God's Son died!
A celebration?
Yes! Of course! You better believe it's a celebration!
The cross is a celebration, but only because it means today happens.
Without the cross there is no resurrection!
Without death there is no new life!
So, yes! We were right to sing our way to the cross. Because the cross is not the end because it leads to today… today is a new beginning!
We've sung some great hymns this week. And today we sing some powerful celebration hymns here this morning and in our churches later today. Songs of joy! Songs of hope! Songs of love! Songs of victory!
All songs celebrating the victory of Jesus over the grave.
And we also sing of our thankfulness.
At the end of the service we will sing "Thine Be the Glory", another wonderful Easter hymn. The lyrics were written by Rev Edmond Budry from Lausanne, Switzerland in the late 1800s. He wrote the lyrics to a tune written by Handel many years before, a tune Handel had written for an opera.
Rev Budry wrote this hymn to comfort himself following the death of his wife. Just one year after he wrote it, it was published in a french hymnal, Chants Evangeliques.
Richard Hoyle, a Baptist minister, translated it into english and by 1904 this hymn found its way into the english YMCA Hymn Book.
The lyrics of this hymn, while consoling words for Budry, have become great words of hope in the resurrection for us.
We love to belt out the chorus,
Thine be the glory, risen conquering Son;
endless is the victory, thou o'er death hast won!
The first verse, sings of what the witnesses saw when they arrived at the empty tomb.
The second verse reflects on Jesus encountering Mary in the garden, removing her fear and sadness and inviting the church to embrace the joy only Jesus can give us this day.
And the third verse sings of the Prince of Life and calling Christians forward with Jesus into life eternal; ourselves conquerers in the challenges of life we encounter each and every day.
The victory of the empty tomb, the victory of Jesus Christ over sin and death is our victory as well. We are with Jesus in his victory. He died for us, but he also lives with us in his resurrection.
In Romans 6 Paul writes:
Do you not know that all of us who have been baptized into Christ Jesus were baptized into his death? Therefore we have been buried with him by baptism into death, so that, just as Christ was raised from the dead by the glory of the Father, so we too might walk in newness of life.
For if we have been united with him in a death like his, we will certainly be united with him in a resurrection like his. We know that our old self was crucified with him so that the body of sin might be destroyed, and we might no longer be enslaved to sin. For whoever has died is freed from sin. But if we have died with Christ, we believe that we will also live with him." (Romans 6:3-8)
When we give our sins to Jesus, it is gone. He took it to the cross for us. And in the resurrection, Jesus brings us to himself so that we may live with him, free from our bondage of sin, and free to live with him for all eternity.
This is the good news of the resurrection. This is the good news from God who speaks to our hearts in ways the world cannot.
My friends, the resurrection story is more than part of the story of Jesus. It is our story too. When we believe in Jesus who died and was raised three days later, we are part of the story.
It's our story too!
Isn't that great news?
If it's not part of your story, it can be. God invites us all to be part of the glorious story of the resurrection. He invites us to a new life, a life only He can give!
And if it is part of your story, we also can share the invitation with others who struggle to see God in their lives.
We don't have to worry about whether there's room for everyone or not. We don't need to worry about saving our pew in the church. We don't need to worry about our position on the board.
Let me tell you a little secret….
In the death and resurrection of Jesus Christ, our Lord and Saviour, there is room for everyone!
And another thing… it's not a secret! This is the Good News we've all been asked to share! In God's kingdom there is healing, there is joy, there is love and there is life eternal!!
Jesus died so that we may have life!
This is no social club, it's a spiritual revolution which changes the world through the work of those who follow Jesus as the risen Lord!
Think about it. What happens after the resurrection?
Did the disciples disperse and go back to their old lives? No, God sent them the Holy Spirit and they changed the world. They built the church of Jesus Christ, which continues today with millions of people!
Jesus Christ in his death and resurrection changed the world.
But he's not done yet.
It's our story too. And there is still work to be done.
There are still people in our community who don't know the story can be their's as well.
There are still people who don't long to shout out the beautiful refrain:
Thine be the glory, risen conquering Son;
endless is the victory, thou o'er death hast won!
God's story is our story.
The Good Friday story is our story.
The Easter story… is our story.
And as we turn the page in this story, may we see what God has written for us next. May we see the next chapter where we are inviting others into the story as well.
Jesus Christ is risen!
He is risen indeed!
My friends, I wish you a blessed Easter celebration in your churches today and every Sunday, as we are moved by the power of our God through the life of Jesus Christ and the inspiration of His Holy Spirit.
The Lord is not done with us yet. The Easter story tells us this plainly. Jesus rose so we might know and the world might know, God is not done with us yet.