Scripture: Philippians 4:4-9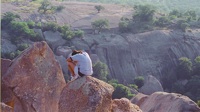 15 years ago today was a beautiful Ottawa morning. I remember the sun shining and it being a lovely walk to work, which usually took me about 30 minutes.
Things were pretty normal as I approached the building and passed by security on my way to my desk. It was a typical day at the office.
I sat down at my desk and opened my laptop. I used to chat regularly with a co-worker in Texas. As I looked at my chat screen, the first words I saw were, "A plane crashed into the World Trade Centre!"
The next line, "Another one!"
Followed by the plane that flew into the Pentagon.
From the time I left the front door of my house to the time I sat down at my desk, just over half an hour, the world changed.
I was in shock! I wanted to know what was happening, so I made my way to the cafeteria, where I knew there was a television, to see what was going on.
Surprisingly I was alone. Others were probably gathered with their departments watching it with the co-workers. The building was very quiet that day.
I sat watching as the towers fell. I watched as people died by the thousands on live television.
I had no personal connections with anyone in New York. Yet I knew there were lives being ripped apart, and it was being broadcast around the world, live.
I was a young man of 27 years then. I was a new Christian, just learning to put my trust in God. That day was the first time I remember really pouring my heart out in prayer… for someone other than myself.
I frequently pray for things in the news these days as they unfold. But September 11, 2001 was the first time I prayed for the pain and the people I was watching on television.
Did my prayers achieve anything? I may never know. I'm sure many, many people were doing the same thing. Glued to their screens. Scared. Worried. And praying.
There were some great stories of heroism and generosity that would emerge in the weeks following the attacks.
Just Friday evening a piece of a beam from Tower 2 was escorted across Cape Breton to Marine Atlantic so it could be delivered to the people of Newfoundland who cared for thousands of stranded travelers who's planes were diverted when the FAA closed the air over North America to all commercial air traffic. The stories which came out of Gander are incredible as the town doubled in size for those long, few days.
And people prayed, together and alone.
In many ways, while the world changed, there was some unification going on as well. Christians from all walks of life, from all denominations, were coming together in prayer. All over the world.
It wasn't going to change what happened, but it brought people together for care and support, and to show love for the world in a time of lament.
Has prayer ever been seen as an such important act globally? Certainly not for my generation.
We are going to spend the next few weeks looking at prayer. Why we do it. What it's for. How do we pray. This is a brief introduction in some ways to the work we will start to undertake over the next few months to enhance our prayer life, both as individuals and as a church.
We're not going to have it all figured out in a few weeks. Nor will we have it all figured out in a few months. We are embarking on a journey which will take years as we seek more of God in our lives and our church through prayer.
I hope you are willing to join me on this journey. We will be having special prayer services. We will be having workshops on prayer. We will be having retreats. All to bring ourselves closer to God in prayer.
Are you excited? Great!
Are you scared or nervous? That alright too!
Submitting ourselves to God in a new way can be a scary endeavour, because it means things might change. It might mean we end up taking a look at parts of our lives we aren't proud of, things we like to hide… and will mean letting God heal those dark corners we don't like to look in.
And let me tell you this from personal experience. When we do this, when we let God take us into those dark places, His light will chase away those shadows, and we will be renewed.
Prayer does change lives.
In Philippians 4, Paul writes this to the church,
Rejoice in the Lord always; again I will say, Rejoice. Let your gentleness be known to everyone. The Lord is near. Do not worry about anything, but in everything by prayer and supplication with thanksgiving let your requests be made known to God. And the peace of God, which surpasses all understanding, will guard your hearts and your minds in Christ Jesus. (Philippians 4:4-7)
Prayer is a conversation with God. It is an opportunity to bring everything before God and a chance to seek his peace. It's a chance to open ourselves to God and let Him guide us and protect us.
This verse makes me think of what Jesus teaches shortly after he teaches his disciples how to pray. Jesus says,
"Therefore I tell you, do not worry about your life, what you will eat or what you will drink, or about your body, what you will wear. Is not life more than food, and the body more than clothing? Look at the birds of the air; they neither sow nor reap nor gather into barns, and yet your heavenly Father feeds them. Are you not of more value than they? And can any of you by worrying add a single hour to your span of life? And why do you worry about clothing? Consider the lilies of the field, how they grow; they neither toil nor spin, yet I tell you, even Solomon in all his glory was not clothed like one of these. But if God so clothes the grass of the field, which is alive today and tomorrow is thrown into the oven, will he not much more clothe you—you of little faith? Therefore do not worry, saying, 'What will we eat?' or 'What will we drink?' or 'What will we wear?' For it is the Gentiles who strive for all these things; and indeed your heavenly Father knows that you need all these things. But strive first for the kingdom of God and his righteousness, and all these things will be given to you as well.
"So do not worry about tomorrow, for tomorrow will bring worries of its own. Today's trouble is enough for today. (Matthew 6:25-34)
Prayer has many uses. We pray for others, which we do every Sunday here at Carman. We pray for ourselves. We pray for world events. We pray for our community.
But prayer is also a time to trust God. It's a time when we can stop… and listen… for what He has to say to us in regards to how we live our lives.
Prayer is learning to worry less about what we are able to do and trusting in God that He will provide what we need. This is not a new concept. Jesus taught this. Paul wrote about this. God provided throughout the Old Testament for His people, especially when they took time to listen to what He had to say.
Why do we pray?
We pray because we know we can't do it ourselves. We pray because we acknowledge our weaknesses and are looking for strength.
Who is stronger than God?
Psalm 140 says,
I say to the Lord, "You are my God;
give ear, O Lord, to the voice of my supplications."
O Lord, my Lord, my strong deliverer…
Psalm 9 says,
The Lord is a stronghold for the oppressed,
a stronghold in times of trouble.
And those who know your name put their trust in you,
for you, O Lord, have not forsaken those who seek you.
Psalm 73 says,
My flesh and my heart may fail,
but God is the strength of my heart and my portion forever.
Also in Philippians 4:13, Paul writes,
I can do all things through him who strengthens me.
In 1 Peter 5:10-11, Peter writes,
And after you have suffered for a little while, the God of all grace, who has called you to his eternal glory in Christ, will himself restore, support, strengthen, and establish you. To him be the power forever and ever. Amen.
God is our strength. There is no one greater we can look to for support than our Father in heaven!
And how do we gain access to His strength?
We talk to Him. We pray. We listen.
And then we obey.
Prayer is much more than pouring out our problems to God. If we are pouring out to God, then shouldn't we expect something in return?
If I went to a service department because I bought something that doesn't work, am I just going to the counter to complain and then leave?
No, I'm going to the store with the expectation that I will leave with a solution to my problem.
Well, if I'm pouring out my problems to God, should I not also expect something in return? Should I not expect God to do something about it?
We should. When we pray, we can expect God to do something. Now it may not be what we expect, but God will do something.
But prayer is more than this. It's more than asking God to do what we want Him to do.
Prayer is an act of submitting ourselves to God. Jesus went off to pray all the time. He spent 40 days in prayer at the very start of his ministry. And he fasted the whole time.
We read often in the Gospels of Jesus taking time to go be by himself to pray. Even Jesus needed to go to God on a daily basis to seek direction.
We can do the same.
Prayer is submitting ourselves to the will of God. It means giving up something to receive a greater gift. The greater gift of being a relationship with our Father in heaven. A relationship which will change our lives as we come closer to Him, day by day.
Will it happen overnight? No it won't. I can't promise you that. For some people it might, but those are rare occasions.
When you get a puppy you want to start training as soon as you possibly can. Why? Because left alone to do whatever the puppy wants means you will have many messes to clean up and many things to replace in your home.
So you start to train the puppy. You start to teach it things you would like it to do. Things like: where to use the bathroom, what not to eat, where it sleeps, what furniture it's allowed on, how much noise it makes, how it behaves around people and other animals.
And when it starts to get these basic behaviours down, then you might start teaching it some tricks. How to fetch, roll over, whatever.
But the puppy doesn't sit there, listen to you telling it what it's supposed to do, and then go do them. Training a puppy is a long term process. Some days the dog will get it. Others it might feel like you are starting all over again.
Finally, after months, or even years, if you are lucky, you will have a dog that does a few things you would like it to do, and you've learned to ignore all the other stuff.
We are like the puppy. We naturally want to do things which are pleasing to us. Which make us feel good.
But those are things which God wishes we wouldn't do. He would like us to stop doing some of those things.
But most of the time we don't listen.
God doesn't train us like a puppy. He doesn't put us on a leash and walk us around until we learn how to heel, sit and stay.
God waits for us to come to Him and say, "What do I need to learn today?" And then He will tell us. He really will. We then say, "Thank you God" and then keep on doing the thing He told us not to do. Just like a little puppy.
Then the next day we'll go to God and say, "What do I need to learn today?" And he'll tell us the same thing. We'll say, "Thank you God" and then maybe, just maybe not do it that day. But watch out for tomorrow, because we might have forgotten by then and do it again.
This is part of the process. Which is why it's really handy to keep some sort of prayer journal we can go back and reference to see what it was God has been asking us to do. This way we can look back and say, "Oh yeah, I'm not supposed to do that anymore. Oops! I better fix that up right now."
We are children of our Father in heaven. We make mistakes. We don't follow all the rules. We don't listen to Him. Somedays are better than others. But we keep working at it.
We want to be much closer to Him. We want it. We long for it. We know it fills a hole in our lives that nothing else can fill.
But sometimes we just don't want to do the work.
Which is why we need to submit. We need to make a full commitment to following God's plan in our lives.
Full. Commitment.
Submission.
These are strong words. Scary words.
But they are necessary steps to becoming a better Christian and follower of Jesus Christ.
They are scary because it means we are giving up control. We are allowing someone else to take over the direction of our lives. So if you hesitate, I understand. I understand because it means you might have to give up something you think is important.
But I can assure you God will only ask you to give something up so that He can give you something far greater.
The Apostle James writes in His letter to the church,
Submit yourselves therefore to God. Resist the devil, and he will flee from you. Draw near to God, and he will draw near to you. Cleanse your hands, you sinners, and purify your hearts, you double-minded… Humble yourselves before the Lord, and he will exalt you. (James 4:7,8,10)
Living a life of faith is trusting in God to provide and give you what you need. It means giving up things which keep you from fully realizing the joy God wishes to give you.
It means humbling ourselves, making ourselves weak so that God can strengthen and exalt us. He will lift you up.
It's His promise. And it's a promise made throughout scripture. Follow Him. Know Him, not just in your head, but in your heart and your soul.
Do this and you will receive His joy, His blessing.
And we do this in prayer. We do this by submitting ourselves, humbling ourselves, and letting Him be the authority in our lives.
This, my friends, is the beginning of a life of faith. A beginning which will not end until we are in His presence, standing before His throne.
Each and every day is another step in the journey to come closer to Him.
Two steps forward, one step back?
It'll happen. We'll make mistakes.
But we just pick ourselves up and submit our life to Him again and again as we commit ourselves to a life of prayer. Listening for what He will provide when we follow the path He lays out before us.
Lives change all the time. The world changes continually, none more so than 15 years ago this morning.
And we will change too if we put our trust in our Father who loves us more than we can ever know.
Let us pray,
Father, help us to put our trust in You. We want to know You more. We want to be faithful and obedient. Help us, Lord, to submit ourselves to Your will for our lives. Give us ears to listen and hearts which long for you. This we ask in the strong name of Jesus Christ, our Lord and Saviour. Amen.