I've been looking forward to this book when I first heard of it. I appreciate Bruxy and his contributions to the church, and was looking forward to what he had to say in this book.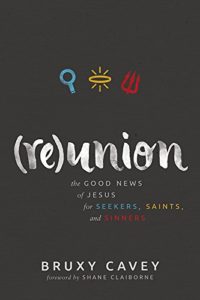 The full title of his latest book (released May 2017) is, Reunion: The Good News of Jesus for Seekers, Saints, and Sinners
It truly is good news.
This book lays out the great promise of God in Jesus Christ in plain, simple to understand language. Whether you are a seeker, a new Christian, or even a pastor like myself you will learn from this book.
I know it's given me some new insights into Jesus and will likely help form and inform an upcoming sermon series at some time in the near future.
Thanks to Bruxy for writing this and I look forward to further engagement with people on the topics covered in the book.
Pick up your copy today at your local Christian store or from Amazon.
*Disclaimer: I received this book free from Graf Martin and Herald Press.