Scripture: 1 John 2:29-3:10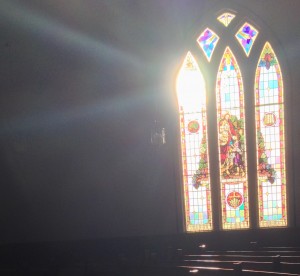 On Wednesday, Craig, Shirley, Grace, Bev and myself drove to New Glasgow for lunch. Seems to be a long way to go just for lunch. What we really went for was to hear more about this Church Renewal journey we've begun here at Carman.
We met Pastor Ray from the church in Steinbach, and he shared with the gathering of about 60 people what he has heard and seen in the church over the last 30 or so years.
He shared a story about his first church, a brand new church he had planted in Ontario. He shared his struggles to see people grow in their relationship with God. He met with other pastors in the area who agreed there needed to be a revival in the churches of the town. They didn't know what to do exactly, but Ray had heard about a small group of evangelists that had done really good work, so they brought them in for 2 weeks of revival meetings.
It went really well. People we're giving themselves to the Lord every night, even some of the most hardened people in his church!
The problem was though, the group left town. And within 6 months everyone had returned to their old ways. Ray was frustrated, and a bit angry about it all.
Why didn't it work? What was wrong with his church? What was wrong with his people?
The stats aren't pretty. Ray shared some stats from a particular study in the United States with are startling. There are contradictory reports that things aren't quite as bad as his report makes is seem. But, either way you look at it, the church is in trouble, possibly even approaching crisis if it's not there already.
Young people are leaving the church in droves. Reported rates of sin in the church are not that different than outside the church, including pornography addiction. Divorce rates are practically equal within the church when compared to outside the church. The number of churches closing every month in North America is staggering.
We need a revival!
Now we don't need a revival so we can keep our churches open. We don't need a revival so we can pay our bills.
We need a revival so we can save this world from sin and destruction. We need a revival so God can work within his children to bring things back to the way in which he intended this world to be when he first created it.
A world of beauty. A world of love. A world of peace and harmony. A world where God walks with his children side-by-side.
The ultimate failure of the revival meetings in Ontario caused Pastor Ray to question everything he knew about church growth strategies. And when he moved to his new church in Steinbach over 20 years ago, God showed him a new way.
What Ray realized was that when he brought in the evangelists to revive his first church, what had actually happened was God visited his town, and people we're fired up. That's good, no?
It is when the visit happens, that's for sure.
But it's not enough.
God requires a habitation, not a visitation. God needs to live in the church and the people who call the church home. This is true revival. Actually, it's more than that. This is renewal of the church.
I'll be perfectly honest with you here today… this is what I hope to see in Carman. Is God here? You bet he is! And he's doing some pretty great things. But he's not quite living here yet. Yes, he visits often, but he would really like to live here.
So this is why we're doing things like Hearing God workshops to enhance our prayer lives. This is why we've started praying at 10am before the service. This is why we're going to run a retreat next April to experience God's presence in a powerful way.
We want to grow in God. We want to have him live in our church and in our lives.
Like a garden, if we want things to grow, we need to prepare the place where we are going to plant the seeds.
So that's where we are today. We are preparing our church to be a place where God will not just drop in from time to time, but actually take up residence in a presence which will be felt as soon as you walk in the door. Why, because he will live in each in every one of us and we will bring him here.
In 1 John, we are reminded of the righteousness of God, and if we know the righteousness of God, then we too are righteous. That is, we live with God each and every moment. If we know God is righteous, and if we are living in right relationship with God, that is we are being righteous, then we are born of God.
We might wonder what it looks like to be born of God. So let's explore what this means a bit.
One place we can look is to Paul and his 2nd letter to the Corinthians. In 2 Corinthians 5:17-21 we read,
Therefore, if anyone is in Christ, he is a new creation. The old has passed away; behold, the new has come. All this is from God, who through Christ reconciled us to himself and gave us the ministry of reconciliation; that is, in Christ God was reconciling the world to himself, not counting their trespasses against them, and entrusting to us the message of reconciliation. Therefore, we are ambassadors for Christ, God making his appeal through us. We implore you on behalf of Christ, be reconciled to God. For our sake he made him to be sin who knew no sin, so that in him we might become the righteousness of God.
In Jesus Christ, through his death and resurrection, we are brought into relationship with God. Jesus extends this invitation to us himself, that we may be made new and know his Father in heaven.
Jesus shares in John 12:44-47
Whoever believes in me, believes not in me but in him who sent me. And whoever sees me sees him who sent me. I have come into the world as light, so that whoever believes in me may not remain in darkness.
So we know Jesus has come so that we may know God, in the same way he knows God. We are invited to follow him and be made a new creation, a new person as a child of God.
What does it look like to be a child of God. Let's look at what Paul wrote in Galatians 5:22-25,
… the fruit of the Spirit is love, joy, peace, patience, kindness, goodness, faithfulness, gentleness, self-control; against such things there is no law. And those who belong to Christ Jesus have crucified the flesh with its passions and desires. If we live by the Spirit, let us also keep in step with the Spirit.
The requirements for being children of God and living in right relations with him are consistent in the Bible. Turn away from sin and embrace the life God has for us as his children.
Quite simply, how we live our lives is indicative of our relationship with God. We may be angels on Sunday, but if we're not acting with the fruits of the Spirit the rest of the week, then what kind of Christian are we?
John wrote in 1 John 3:9-10,
No one born of God makes a practice of sinning, for God's seed abides in him; and he cannot keep on sinning, because he has been born of God. By this it is evident who are the children of God, and who are the children of the devil: whoever does not practice righteousness is not of God, nor is the one who does not love his brother.
We need to seek to live as righteous children of God. It's not about what we do here on Sunday, but what we do when we leave this place. Are we representing God in our daily walk, or are we representing our sinful selves?
That's a question we need to wrestle with each and every day. It means getting up in the morning and asking God what his plans are for our day. It means reading our Bibles and praying regularly so we can be in step with God's will for our lives.
It also means resisting the temptation to fall back to our old ways, the sin in our lives we left behind when we became children of God.
John is the most clear he has been so far in his letter. He's clear that if we are not acting as righteous children of God, then we are acting on behalf of the devil. And no one wants that.
So John brings it back to our relationship with God. Are we just visiting him here today, or are we asking him to live in us.
John says, "No one born of God makes a practice of sinning, for God's seed abides in him; and he cannot keep on sinning, because he has been born of God." (1 John 3:9)
When God abides in us, he lives in us. To use the dictionary definition, to ask God to abide with us is to ask him to remain or stay with us.
Not visit, not passing by, but stay with us. And John introduces the concept of God's seed staying in us. If we're asking God to plant a seed in us, which will stay with us, we can expect that seed to grow in us. Can we not? Surely it will if we give it a place where it can grow!
Really, this is all God wants. He wants us to know him. He sent Jesus to show us this. He sent Jesus to bridge the huge gap which had built up since the Garden of Eden between humankind and God. Jesus was sent to heal this important relationship.
God knows us inside out. There's nothing we can hide from him. Oh sure, we try, but it's impossible. God sees it all, even the stuff we thought we had hidden away in the basement. God knows where it is, and he knows what it is.
But he still loves us.
He loves us so much he wants us to be renewed in our lives with his blessing. He loves us so much he's willing to put a seed, a piece of himself into our hearts so that we will grow to be more like Jesus, his Son.
What an amazing thing. God not only gave his Son for us, he's putting a piece of himself inside us.
It's when this piece, this seed of God gets inside us which will transform our lives. We begin to be changed by God. We will find ourselves more able to resist the temptation of sin. We will look at the world differently.
And we will find ourselves living out those fruits of the Spirit much more naturally. Those fruits we read in Galatians 5: love, joy, peace, patience, kindness, goodness, faithfulness, gentleness, and self-control.
Those are the marks of a Christian. Those are the things others will notice in us, and be drawn to God gently through our actions as we act them out as righteous children of God.
It is an amazing thing when you think about it. All that God has done, he has done for us so that we may know him more.
That's special. Do you feel special?
Do you feel God growing within you?
Do you feel God growing in our church?
Just to be clear, it's not me doing it. It's all God.
He's doing these things in me, and I hope he's doing them in you too.
Let us pray,
Father,
You have blessed us with many things. Family. Friends. A wonderful church. A beautiful piece of the world to live in. But most of all you bless us with your presence, made known to us in your Son.
We ask you God, to continue the work you have started. Continue speaking to us, and bringing us into lives of righteousness.
We do struggle at times. But regardless, you are still with us, you still love us, and you will bring us through these struggles.
Father, takes those seeds you have planted within us, and make them grow. Make our hearts a home for you, and make this, your church, a home for you. Make Sydney Mines a home for you.
And may this transformation begin with each and every one of us here today.
We ask this as your children, walking in the footsteps of your Son, Jesus Christ our Lord.
Amen and amen.