Scripture Reading: 1 John 5:13-21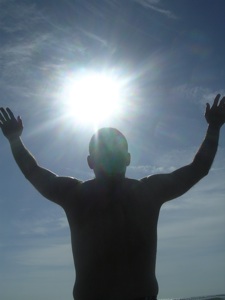 I remember high school, and in high school there was, and still is, somewhat of a dress code. Now I don't mean there are uniforms and people checking to make sure uniforms are compliant with the rules. What I mean is there is an unspoken standard students are supposed to maintain if they want to look "cool."
This usually means whatever brand names are popular, they should be on display whenever possible. It also means you need to maintain a certain level of dress in order to remain "cool." So whatever the style is for the day, it also should also be on display.
When I was in school, it was acid wash jeans. Today it's leggings or torn jeans. This could also include the hats you wear, your footwear, your jackets… who am I kidding, you don't wear jackets in high school? That's not cool!
There's a lot of pressure to be part of the "in crowd" in high school. And so much of it is based on how you dress.
After high school you might go on to university. In university, you are often away from home. You are shopping on your own, with a limited budget, and you tend to get a lot less sleep trying to keep up a social life and the sheer amount of homework you usually get.
Also, in university, dress codes are much more relaxed. Because of the lack of sleep and the pressure to do all the work for your profs, somedays you are doing well just to not go to class in your pajamas. And a nice, warm jacket on cold winter days sure make the walk to class a bit more bearable.
It's kind of funny how such a monumental shift can happen in just a year. How being cool goes from being the "most important thing," to simply trying to survive midterms and keep up on writing papers and assignments, no matter what you look like.
And let's be honest, who has time for laundry in university? The challenge some days is trying to find the clothes which don't smell the worst. And don't worry, if you stink too bad, someone will let you know. Hopefully it's a good friend who can break it to you gently, or preferably your roommate before you leave the room!
It's kind of funny how people are quick to point out social faux pas, but only certain kinds of them. Something stuck in your teeth? It could be there for hours before you find out. I'm not sure why we don't do this. I'd rather a few seconds of embarrassment because someone told me my pants zipper is down than find it when I get home and realize I've talked to about a million people today. Don't you agree? Shouldn't we be looking out for one another? Sounds like a good plan to me.
But enough silliness. We've made it to the very end of the book of 1 John. A letter John wrote to some unnamed church, maybe even several churches, to help them in their faith development. He warned them about false teachers, he encouraged them in their faith, he told them to realize the love of God in their lives, and to live according to how Jesus would have them live as he sacrificed his life for their's.
In these final last few verses, John is still offering good advice to the church. He wants people to know they have access to eternal life because they know, believe in, and love Jesus Christ.
And today we hear him touch on faithfulness in relation to prayer.
He says,
And this is the boldness we have in him, that if we ask anything according to his will, he hears us. And if we know that he hears us in whatever we ask, we know that we have obtained the requests made of him. (1 John 5:14-15)
Now we want to be careful when we read a passage like this, because we can read it and think that if we believe in God we will get whatever we pray for. That's not how it works. If we believe this, and then pray and pray and pray for it, and not get it, then we begin to get doubts about God, or maybe even beat ourselves up for not believing enough. That's not what this, or other, passages are telling us.
Notice how the passage is written. It says we have boldness in Jesus Christ. And we should! I think after going through the this first letter of John's, we should feel like we have a bit of confidence in our faith, even a boldness to act out as Jesus leads us to act.
The next few words are key to the rest of the this particular verse around prayer.
John says, "if we ask anything according to his will, he hears us." Now assuming in the "hearing" part God will answer, so what are we asking? We are asking things "according to his will." This is very important, and we talk about this a bit in the Hearing God course.
We can only be assured that our prayers will be answered favourably when it's in accordance with God's will. We can't beat ourselves up when our prayers don't get answered. They may not be part of God's will. God's plan is far bigger than we can ever see or understand. We don't know how the thing we are praying for is going to impact the world. It may seem inconsequential to us, but in God's plan, it could have a rippling effect we cannot see.
We can pray for things which is in God's will. And his will is revealed to us in many ways, our Bibles, our own prayer times, through other Christians, and more! We just need to learn to identify it when it happens.
One thing we can do with confidence is pray for the faith of other people. We can pray God will reveal himself to someone we pray for. That's definitely in God's will. God wills it that people will know him, and come to him. Prayer is one way in which we can be part of this process of the growth of someone else's faith.
And if someone is sinning, then we need to pray about that as well. We pray that people will recognize their sin, repent of it, and come to Jesus for healing. And if we can be part of the process, great! But we can also pray for it, that God will do it within them, or through someone else. John tells us when we pray for such a thing, it will happen! He says God will give them "life", which is to say, God will give them his Holy Spirit.
But there's a caveat, John tells us it will happen if the sin is not mortal. Other translations may say "sin unto death."
What is this mortal sin? Doesn't God forgive us of our sins? Yes he does. But it appears as though there are two types of sin. There is forgivable sin, and unforgivable sin. What's the distinction?
Forgivable, or "not mortal sin", is probably most of the sins we take part in on a regular basis. Some of which may seem more severe than others. Stealing, lying, adultery, murder, those are all forgivable sins.
Now adultery and murder seem pretty severe, and yet those are forgivable. So what is it that is unforgivable?
Let's look at Matthew 12, Jesus is being accused of working for the devil as he casts out demons. So they are blaspheming Jesus. And Jesus says this in response to their accusations:
Whoever is not with me is against me, and whoever does not gather with me scatters. Therefore I tell you, people will be forgiven for every sin and blasphemy, but blasphemy against the Spirit will not be forgiven. Whoever speaks a word against the Son of Man will be forgiven, but whoever speaks against the Holy Spirit will not be forgiven, either in this age or in the age to come. (Matthew 12:30-32)
There you have it. You can actually speak against Jesus and be forgiven. But you cannot speak against the Holy Spirit, for it is an unforgivable sin. It's through the Holy Spirit that Jesus did his work, and it's through this Spirit, our divine helper from God, we continue to do his work today.
In other words, if you reject the Holy Spirit, you outright reject the power of God, willingly, and you will live in your sin for all eternity. It's harsh, but it's scripture.
John wants us to pray for people, our brothers and sisters of this world, that they may know and accept the power of God in their lives. He wants us to pray they will receive it and walk to the light which is in Jesus Christ, the one who casts out all darkness and evil in this world.
This is why, I believe, it's so important for us to pray for the people of this town, including the drug dealers, including those who are addicts who break into homes and businesses looking for a quick buck. We need God to break through into this town with his Holy Spirit in a big way. So I'm glad when we pray for these things here in church, or in our pre-service prayer times, and we certainly pray for it when the ministers in town gather to pray each week among many other things.
Sin is rampant right now. People have sought greed over compassion, pride over love, and it shows in how we treat each other. We need God to do his work in these people to bring healing to our families, our schools, and our town. We need to pray for all these things each and every chance we get. God's will, I believe, is to bring a Spiritual revival and healing to Cape Breton, so we need to pray for it and for those who will receive it. Including our churches!
It may be a social faux pas to point out people's sin, because it's far worse than a little spinach in your teeth. But here's the point. Do we believe we have a place in heaven because we love Jesus Christ? We do don't we? We know because Jesus died on the cross for our sin we have been forgiven and have become part of God's eternal family, right? If we have this free gift from God, then shouldn't we be willing to share it? If we believe this is so important for eternal life, and if we want to spend eternity with our loved ones, then shouldn't we be eager, even desperate to share this good news and help others realize it for themselves?
We should. And if we're going to do this, we need to be open to God leading us and seek to follow his will.
In the closing of his letter, John offers three quick affirmations, which are sort of summaries of what he has invited the church to do throughout the letter.
The first is "We know that those who are born of God do not sin, but the one who was born of God protects them, and the evil one does not touch them." (1 John 5:18)
If we are born of God, we do not sin. If only it were that easy, but God does protect us if we continue to be faithful. We may slip from time to time, but we take it back to God and he forgives us and we grow in our faith even more.
God's forgiveness is a powerful, life changing moment. When we humbly offer our sin to him and realize Jesus died for it on the cross, how can we ever commit that sin again? It may be an ongoing struggle to resist the sin, but God will remind us, we will remember the moment of forgiveness and we will resist that temptation.
It works, it really does!
The second affirmation is "We know that we are God's children, and that the whole world lies under the power of the evil one." (1 John 5:19)
When we are God's children through our relationship with Jesus Christ, we rise above the power of the devil. The Holy Spirit raises us up! We are made into a new creation! We are given a new life! A life which rises above the evil and sin around us.
When we take our own sin to God, we ask him to take it away from us. In doing so we are receiving a great gift of life, life eternal in the presence of our God and our Saviour, Jesus Christ. And in this gift, we are better able to see the darkness of the world and the sin in which it has enveloped itself. Why? Because we have the light, God's light! This light shines into the darkness and exposes the things which are trying to hide, things like sin.
So we need to know we are God's children. And I think you do know this, I tend to say it once in a while.
The final affirmation John leaves us with is this, "And we know that the Son of God has come and has given us understanding so that we may know him who is true; and we are in him who is true, in his Son Jesus Christ. He is the true God and eternal life." (1 John 5:20)
This brings it all together for us. Jesus has come, he has given us an understanding of ourselves, our world, and most importantly that he is the one true God, and we find eternal life in him.
This is the invitation we are offered. This is the invitation we offer to others. Come to know Jesus. Come to know Jesus because he is life. He is truth. He is love. He is grace. He is all we ever need.
It's been a lot of fun, I think, to take in John's letter to the church. He has challenged us to rethink our relationship with Jesus. He has challenged our way of thinking as to who we are as a church. He has challenged how we as a church relate to God as well. These are all good things.
If we're not being challenged once in a while in our faith, then how are we going to grow in our faith? How are we going to be able to understand God has a calling for us as his children? How are we going to be able to fulfill that calling?
We do it by growing in our own understanding of who we are as his children. And sometimes we need to be challenged to realize it.
I encourage you to go back and reread the whole letter for yourself. Ask God to help you to continue growing in your faith as you respond to the invitation once again to be part of God's growing, loving and eternal family.
This is good news, and Jesus shows us the way.
Let us pray,
Lord God,
What a great gift you have offered us, your children. We ask you to open our eyes and our hearts to the wonder of all you have for us. May we feel your blessed Holy Spirit move among us, may we breathe it in and feel your love surround us and enter us.
Father, we are your children. We are the ones you have chosen out of love to serve you in the name of your Son, Jesus Christ our King and our Saviour.
Help us to continue to grow in our faith, our love for you, and be open to your Holy Spirit who guides us.
We ask all of this in the precious and powerful name of Jesus Christ. Amen and amen!