The following is my sermon from the Week of Prayer for Christian Unity service.
Scripture: Mark 5:21-43
Do you realize you are in the presence of Cape Breton's newest star of the stage?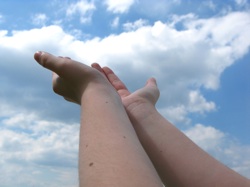 On Wednesday evening Bev and I went to the Highland Arts Theatre to see "Of Mice and Morro and Jasp". It was a nice little show, but it picked up a bit in the second half when they called a tall, handsome, newly discovered actor from the audience. The audience was in tears of laughter as he skillfully navigated his way through the scene. On his way out of the theatre. there were rave reviews of his performance.
I must say, I think I did pretty well up there.
Ok, I may be exaggerating a little bit. But I did get called up on stage to help with a scene. At least Bev was in tears, I'm not sure about anyone else, but I did hear laughter. Also they killed my dog and stole my wallet. A star is born! Does anyone know a good agent? I'm sure Ron Howard will be calling any day now.
It was a pretty fun evening out, that's for sure. There's a lot of great talent here in Cape Breton, and a lot of really great shows to take in, whether it be musical, or theatrical, or dance, we have a thriving arts community which has seemingly popped up almost overnight when you think about it.
I may not have great throngs of crowds following me around, asking for my autograph… yet. It's not like I have the time to take on such a project on top of the rest of my schedule, but it was fun. I'm also glad that the next time we are going we have seats in the balcony. I'm not sure I can handle the crowds!
Jesus is pretty used to crowds though. He's become quite the star in and around Jerusalem. Word is spreading of his fame, and people are flocking to see him every chance they get.
They aren't asking for his autograph though. No… they want more from him. Word is getting around he's been doing some pretty amazing things, he's been thrilling a good number of crowds, but he's not an actor. He's been teaching people about the kingdom of heaven. He's been healing people.
This has really brought him some serious attention.
Jesus, and his disciples have just exited the boat and already a crowd is surrounding him. It's like the word of his approaching has passed around the lake faster than the boat could cross it because people are right there waiting on the shoreline.
And one of the leaders of the synagogue in the middle of it, just waiting for a chance to meet Jesus. Jairus is his name, and his daughter is sick. Very, very sick. Jairus knows the stories of Jesus and his healing powers, so quickly asks Jesus to come with him to see his daughter, and to heal her. And off they head to the house of Jairus.
But the crowd is huge, and it's pushing in on them as they try and weave their way through the streets. There are faces everywhere you look, and the hands, the hands of people reaching out pleading for Jesus just to touch them. It's just chaos to try and take a single step.
And in the crowd is a woman. She's been bleeding for 12 years. She's been pushed aside because of it too. You see, because she's bleeding, she's unclean. She's taking a pretty big risk, because if she's found in the crowd, she'll be pointed out and chased away. Why? Because if she touches anyone else, they'll be unclean too. She's supposed to be keeping her distance from anyone else.
For 12 years she's been alone, abandoned, shunned, forgotten. Imagine what it must be like for her to wake up every morning, knowing no one will speak words of kindness to her, if they'll speak to her at all. Imagine knowing that this is probably how you are going to spend the rest of your life… alone.
"But wait, Jesus is here? I've heard stories about him! I've heard people talking about the miracles he's performed. He's healed people! I need to see him, but what if I'm caught?" she thinks.
So as carefully as she can, her head covered as to not be noticed, she works her way through the massive crowd just trying to get close. "If I could just touch him," she keeps repeating to herself.
And finally she gets close enough to stretch out her hand and just brushes her hand on his cloak. And she's healed!
Before there's any more commotion she tries to work her way back out of the crowd. But something has happened. Jesus has stopped and is looking around.
"Who touched me?" he asks.
The disciples are like, "Dude, like everyone has been touching you! What are you talking about?"
But Jesus sensed something when a particular hand touched his cloak. Someone had something happen to them. He knew because he felt it in his spirit. He wanted to talk to this person.
The woman is now terrified about what will happen next, but instead of running she falls at the feet of Jesus and tells him the whole story.
Jesus takes the opportunity to praise her for her faith and blesses her on her journey.
What a Jesus thing to do! Instead of fear he gives her peace. Instead of loneliness, he gives her community. Because her bleeding has stopped, she will no longer be shunned. She'll be able to go back to her family and her friends. Instead of dread at the start of every day, he has given her hope!
You know, Jesus could have just kept on walking. He didn't have to stop and do anything with this woman. He was on his way to help a young girl who is dying. And someone touched him? Big deal!
But again, this is kind of a Jesus thing to do, right? He needed to stop and make this an opportunity, not just for the woman, but for those around him to learn about faith, to learn about grace, to learn about hope.
I have hope. Do you?
As this is our week of prayer for Christian unity, we are gathered here as representatives of various denominations on the Northside. Six churches by my count have gathered to take part and worship together.
We've also come together to try out Alpha, an excellent outreach tool which will help the Northside come to know Jesus, if we continue to work together and invite people to join us each time we run it.
We also have our Holy Week activities coming up at the end of March. More to come on that in the coming weeks!
I love that we are working together in Sydney Mines across denominations. I love that we are calling each other a brother or sister in the faith. We all use the same Bible. We all worship the same God. We all have the same Saviour in our Lord Jesus Christ!
I have hope. Do you?
I have hope that we are just on the brink of God doing something amazing, not just in Sydney Mines, but all across Cape Breton! Jesus is coming people, and it's going to be awesome!
Now sure, Jesus may not walk down Main Street with adoring crowds pressing in on him, but I believe our churches are preparing ourselves for a revival in our community.
Every Wednesday morning, a number of the clergy in town, those who are able to make it, we pray together. You know what we pray for? We pray for every single church in this town. We pray for your pastors. We pray for your boards. We pray that God will bless you with an influx of his Holy Spirit. Yes, even the Catholics!
There was a time when almost all my funerals in town were held at the funeral home. That was only a few years ago. Now sure, I don't do nearly as many as Father Jim, but I do my share. Over the last few years though, I've seen people begin to ask if they can have it in the church again.
Why is this? I believe it's because I think people are realizing something is missing and are trying to find it again.
They're looking for hope. And somehow, by making a connection to the church, they seem to be getting glimpses of hope they haven't seen for a while. It's like they've been hearing something and are reaching out to try and find it.
We live in a community which is hungry for hope. I don't know if you see it or not yourself, but I've seen it again and again. People are tired of all the drugs. People are tired of the poverty. People are tired of just trying to live day-to-day, and they are trying to find hope.
I have hope. Do you?
What an opportunity for our churches to share our hope with those who need it. When we travel our streets, when we walk around the loop, when we shop in our stores, when we go to our banks, do we see the people who are reaching out for hope? They are there. I promise you they are reaching out for hope.
As much as I would love to tell you today to not to worry about these people because we are Carman, we are all over it, I can't.
The problem is too big for us to handle on our own. The problem is too big for Grace Fellowship to handle on it's own. It's too big for Clyde Avenue; too big for St. Andrew's; too big for Trinity; too big for Northside Baptist; too big for Holy Family.
We can't manage this problem on our own. We can't offer people hope on own own.
But together…
Together… I believe we can take on the world! Every church using our God given talents in partnership with each other, connected to the head of the church, Jesus Christ our Lord! What can't we do!?
Nothing. There's nothing we can't do when we put our trust in Jesus and let him lead his church.
Doesn't scripture have something to say about this?
In Romans 8:28-31 Paul says this:
And we know that in all things God works for the good of those who love him, who have been called according to his purpose. For those God foreknew he also predestined to be conformed to the image of his Son, that he might be the firstborn among many brothers and sisters. And those he predestined, he also called; those he called, he also justified; those he justified, he also glorified. What, then, shall we say in response to these things? If God is for us, who can be against us?
My brothers and my sisters gathered here today, I have hope. Do you?
Jesus continues to bring us together in loving service to a community in search of hope. He continues to lead us down paths which bring peace and reconciliation with each other and with the community in which we serve.
Together, in Christ Jesus, we are one.
And we are surrounded by hands and faces which are searching for answers in our communities. We are surround with people who feel lost and alone, searching for peace and someone to trust.
The same people Jesus would stop a whole crowd for, to offer God's grace to one lonely person.
I have hope… do you?
Let us pray,
Lord Jesus, may we find you in the midst of this place, the place where our churches have come together to be close to you. May we also be aware of the people in our midst who are hungry for hope in their lives. Sure it's great to be together in worship, but you call us to more. You call us to love and serve our neighbours. Oh wait, more than that you call us to love and serve our enemies.
Remind us again of your call to our churches, to be beacons of light, hope, peace and grace for the lost and the lonely.
Jesus, it is with you we are able to make a difference in our community and in our world. Lord Jesus, would you continue to bring us together in ways where you hope is extolled from our buildings and echoing down our streets.
We have hope, and we have more than enough to share.
Lead us Lord Jesus, you are the one who will show us the way.
We pray all of this in your most Holy Name. Amen and amen.