Scripture: 2 Corinthians 9:6-15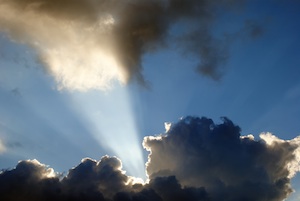 It's kind of hard to believe that we're already into October. The trees are starting to change colours. The air is definitely cooler now, we've been able to have that "taste" of fall in the air for a few weeks now.
One sure way to know it's October is that there is pumpkin spice everything now. What seemingly started with coffee has moved onto cereals, cookies, ice cream, including Dairy Queen Blizzards! Is nothing sacred?
Personally, I'm a big fan of summer. But fall is not that far behind in terms of favourite seasons. It's such a great time to go for drives right now. To head off around the Cabot Trail and take in a hike or two. It's a beautiful time of year, that's for sure.
Add onto that, some special times with family, maybe around the dinner table this weekend, with a nice big, juicy turkey to dig into with all the trimmings. We love a good turkey dinner in our house, but I'll confess a bit that we do it mostly for the side dishes. Who doesn't love a good stuffing? A few days of leftover hot turkey sandwiches are nice too. Personally, I can do without cranberry sauce though.
There's just something about October and Thanksgiving which puts us in a certain kind of mood. Am I right? There's just something we long for this time of year. For me, there's a certain amount of peace I feel when we get together with family and friends around a nice big meal. You can't help but feel… well, thankful!
The reading we shared this morning from 2 Corinthians is often referred to as the "Cheerful Giver." It's called this because part of this letter Paul is writing a letter to the church of Corinth to encourage them to consider how they are supporting the early Christian church financially.
Where we picked it up, Paul said "The point is this…"
Well, I think we should know a little context so we know what the point of what comes next is about. It feels a little bit like we've walked into a room in the middle of a conversation.
Paul begins 2 Corinthians 9 acknowledging that the people of Corinth are most certainly a faithful people. He says he's been going around to other places and talking about them, and how their story has been inspiring other churches.
That's nice to hear isn't it? I love hearing stories about other churches and how God is doing great things in and through them. I love it too when people tell me, from other churches, how they love hearing about what God is doing here too. It goes both ways. We love to be encouraged by the stories of others, but it's also nice to have a little boost knowing that other people are thinking you're doing a good job too.
When looking at Corinth, Titus had started taking a collection the year in support of the wider church, and now Paul is sending him with this letter to sort of complete the collection from the church. Paul is on his way back, traveling with some people from Macedonia, and he's telling people to be ready. He says, "You promised you'd have an offering for me when I return, so I'm just letting you know I'm on my way. So be ready! I don't want to have to show up there and make it look like I'm forcing you to give me money."
Sometimes you'll see a comic once in a while where the church ushers look at their collection plates and decide they need to pass them around again. That's sort of what Paul is hinting at here.
Paul goes on to remind the people of Corinth that if we withhold from God, then God could choose to withhold from us. "… whoever sows sparingly will also reap sparingly, and whoever sows bountifully will also reap bountifully. Each one must give as he has decided in his heart, not reluctantly or under compulsion, for God loves a cheerful giver." (2 Corinthians 9:6-7)
When I read this passage of scripture, I wonder if we might choose to call it the "Cheerful receiver" instead of "Cheerful giver."
This time of year is when we see all kinds of fresh fruit and vegetables on our tables. This stuff just doesn't appear here on it's own. Farmers have worked hard all summer long in order for us to have this fresh produce we love.
They prepared their fields in the spring. They planted their gardens. They watched over their fields all summer long, even in the extreme heat we endured this year. They get up early every morning to make sure everything is ok. They treat the plants if there are signs of disease. They keep away critters which like to eat the plants and produce. And then finally, after months and months of watchful care, they harvest the produce which makes its way to our tables.
While we are very happy to have fresh, local produce on our tables, I'm sure the farmers are just as happy, if not more, that they have been able to provide our dinners from their fields.
We are happy to receive from the one's who are happy to provide for us. And I'm also sure they are happy that we have paid for this service so they may have a comfortable winter.
The farmers are happy to do the work on our behalf so that they may provide meals for us. And we are happy to receive the fruits of their labours and so we pay for it out of our enjoyment and full bellies. The more food we receive, the more we pay.
As we have heard in recent weeks here at Carman, Jesus said, "But if God so clothes the grass, which is alive in the field today, and tomorrow is thrown into the oven, how much more will he clothe you, O you of little faith!" (Luke 12:28)
Or if we go to Luke 11 where Jesus says,
"What father among you, if his son asks for a fish, will instead of a fish give him a serpent; or if he asks for an egg, will give him a scorpion? If you then, who are evil, know how to give good gifts to your children, how much more will the heavenly Father give the Holy Spirit to those who ask him!" (Luke 11:11-13)
God desires nothing more than to bless us and provide for our needs. What we need to do is put our trust in him, and he will do so. God doesn't give us evil things, he doesn't mistreat us. God loves us and wants the very best for us, as we come to know Jesus and become children of God.
When we realize what God does for us; when we understand the incredible love he has for us, we know how God has blessed us over and over again. In recognition of this incredible gift of blessing, we can't help but want to give back to God. So in being a cheerful receiver, it moves us to be a cheerful giver.
Last spring when we had our Set Free retreat here at Carman, we charged $50 for the weekend, which included some great meals catered by the Ladies Auxiliary at the Legion. Towards the end of the retreat, someone stood up and said, "We have received a lot here this weekend, and I don't think $50 covered it all. How can I give more?"
According to the budget we had for the weekend, $50 per person covered everything we provided. It covered the food, it covered the materials we provided, it was just enough. Our projection was we would break even at $50 per person, which was our goal.
But what this man was saying, whether he knew it or not, was that God had stepped up and offered a lot more than we, as a church, or even me as a pastor, could ever provide. God showed he had a lot more in plan. People left our Set Free weekend feeling very blessed by God, they felt set free from sin in their lives, they felt like new people. So this man wanted to give more in response to what he received.
In his heart, this man felt he needed to acknowledge what God had done for him. He was so happy he came and experienced God in a powerful way, his natural response was to give more.
This is what Paul is getting to today. If we have experienced a movement of God in our lives, if we feel blessed by our Father in heaven, we want to give back. It's just natural.
This is how God works. God, by blessing us, makes us realize we have more than we need, and how what we give cannot even come close to what he has given us, yet we still want to give.
It's kind of funny when you think about it. Over the last couple of weeks we've talked about how we are trained by the influences of this world, to store up treasures and wealth for ourselves. So we do that. We work hard. We try to earn as much money as we can. And then we go out and buy stuff and more stuff.
But then God steps in and gives us something we often don't even realize we need, and our hearts change. Our motives change. We don't want to store up for ourselves any more. We want to give it back to God.
Funny fella that God.
It's like he must have planned it that when our hearts receive his love we just want to share it.
Isn't that what Jesus has asked of us?
Did Jesus not ask us to love one another? And isn't the way we love one another simply taking care of each other?
Paul says it this way,
"For the ministry of this service is not only supplying the needs of the saints but is also overflowing in many thanksgivings to God. By their approval of this service, they will glorify God because of your submission that comes from your confession of the gospel of Christ, and the generosity of your contribution for them and for all others, while they long for you and pray for you, because of the surpassing grace of God upon you. Thanks be to God for his inexpressible gift!" (2 Corinthians 9:12-15)
The church of Corinth, through their joy of knowing God through Jesus Christ are abundant and generous in their support to their city and also the wider church.
The church in Corinth may not be perfect. Our own church here is not perfect. But when we serve in joy to the response to the blessings of God in our church and in our lives, God can certainly do great things!
What a joy it is, to celebrate this Thanksgiving weekend, the joy of God among us as brothers and sisters in faith.
May we know God among us and the joy he also has for us. May we see the blessings of God in our lives, and joyfully share with it others!
Let us pray,
Lord Jesus,
Through you, our Father in heaven has given us an inexpressible gift. We can barely put words to what we receive.
Let us see the joy of our Father who loves to bless us, and give us hearts to return to him from the joy we feel in receiving.
We thank you for your life on this earth, for showing us how to live, and for dying and raising again to life, so that we may live with you and our Father in heaven, forevermore. Amen and amen.