Scripture: Luke 2:1-14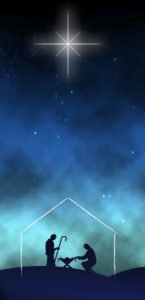 Well, it's finally here. After a month of preparing, a month of parties and food, a month (or more) of shopping, it's finally the night we've all been waiting for.
Christmas has come.
Some of you may have finally breathed a sigh of relief because you've got it all prepared for and you are ready. Or maybe you've just said, "Close enough" and resigned yourself to the fact you weren't going to get it all done. The funny thing is, Christmas was going to come whether you were ready or not.
How has your month been? Has it been a time of great stress? Are you exhausted and just glad it's finally here because you can stop running around so much and be thankful everything is closed for the next two days?
Things can be so hectic it's hard to find time to rest. Which is maybe why tonight might feel special. Tonight is a night where we can just be ourselves again and relax, and maybe do it with family and friends and celebrate each others company.
But there is more to tonight than just being able to finally relax.
Tonight is a night of adoration, not just celebration.