Scripture Reading: Romans 5:1-8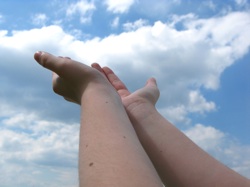 Over the last two weekends I have been challenged to grow more. Now I'm know I'm not going to get any taller. And I'm trying to not grow any wider, however I could probably work on that a little harder than I do right now.
But through the Church Renewal weekend in Manitoba, and last weekend's Cursillo men's retreat, I've been feeling the need to be a better person. I've been feeling the need to get rid of the sins in my life that I had ruled as "minor" sin and not really all that bad for me.
But I've come to realize a truth that any sin is bad, and any and all sin keep me from growing in my relationship with God.
At the Church Renewal weekend in Manitoba, I had some powerful experiences that I will share with you at a later time. But God spoke pretty clearly to me that there were things I needed to shed from my life, things I had rationalized as "not too bad", but in reality had more impact on me than I had imagined, or was willing to admit to myself.
So, I am working on these things. Two weeks in, and I'm doing ok. But ask me again in 6 months, that will be the real test.