Complete Joy
Scripture Reading: 1 John 1:4-7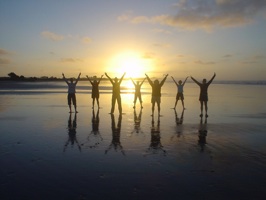 There have been times when I've not had any clue what I was going to do. Times when I felt so overwhelmed there was no chance I was going to be able to make a decision, nor did I even fully know what the problem was I was trying to solve or respond to.
In these times I felt like the weight of the world was squarely on my shoulders and there was nothing I could see or do.
So I often did the only thing I could think of. I went for a walk.
While I walked I would open my heart and cry out to God for help. Often I would find a bench or something similar to park for a bit while I sorted out what God was trying to tell me about whatever was going on.
And I felt better. The problem would still be there, but I now knew God was there with me in working on the solution.
My pain had turned to joy.
When we find ourselves walking in darkness and take time to seek God's perfect truth, our pain can be turned to joy. The problem may not be solved, but in acknowledging God walking with us, we can begin to see how He is using this to bring His plan to the world. That's where we find the joy. It's in God's plan.
God's plan included walking the earth as Jesus Christ. So we can walk with Him knowing He shares our struggles through the birth of Jesus. A gift for all the world.
Lord God, walk with me. Help me to see Your perfect plan
so I may rejoice with You in the plan You have for me. Amen.