Scripture: 1 John 2:7-17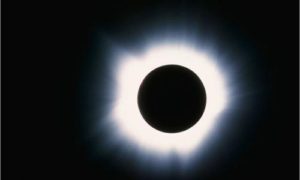 Did anyone else get excited by the eclipse last month? We were driving back from vacation and stopped in Orangedale to see Bev's family on the day of the eclipse. We got there just before the eclipse started and we quickly made a pinhole camera so that we could watch the moon pass over the sun, even though we knew it wouldn't be very much coverage here in Cape Breton. Still, this was our first eclipse with the kids, and we wanted them to see what they could. It certainly wasn't as dramatic as other parts of North America, but it was a fun experiment to try.
For weeks leading up to the eclipse, we were all told by the news and social media "DO NOT LOOK AT THE ECLIPSE!!!!"
We all know staring at the sun is generally a bad idea. Right? But it appears as though some people took this warning a little too far.
In some parts of America, school starts in mid-August. Some schools were ordered to keep children inside during the eclipse for "their own safety."
I heard of a town pool, here in Nova Scotia, that closed for the afternoon of the eclipse for safety reasons.